DER FEINSCHMECKER Special Edition with Fine Woods
Coffee in Coffee-Shop Quality
Espresso machine with high-quality and elegant walnut wood in the handle of the portafilter, in the professional espresso tamper and in the lid of the bean hopper
Watch product video now
£ 449.90 *
£ 549.90 *
(18.19% Saved)
Prices incl. VAT plus shipping costs
Ready to ship today,
Delivery time appr. 3-4 workdays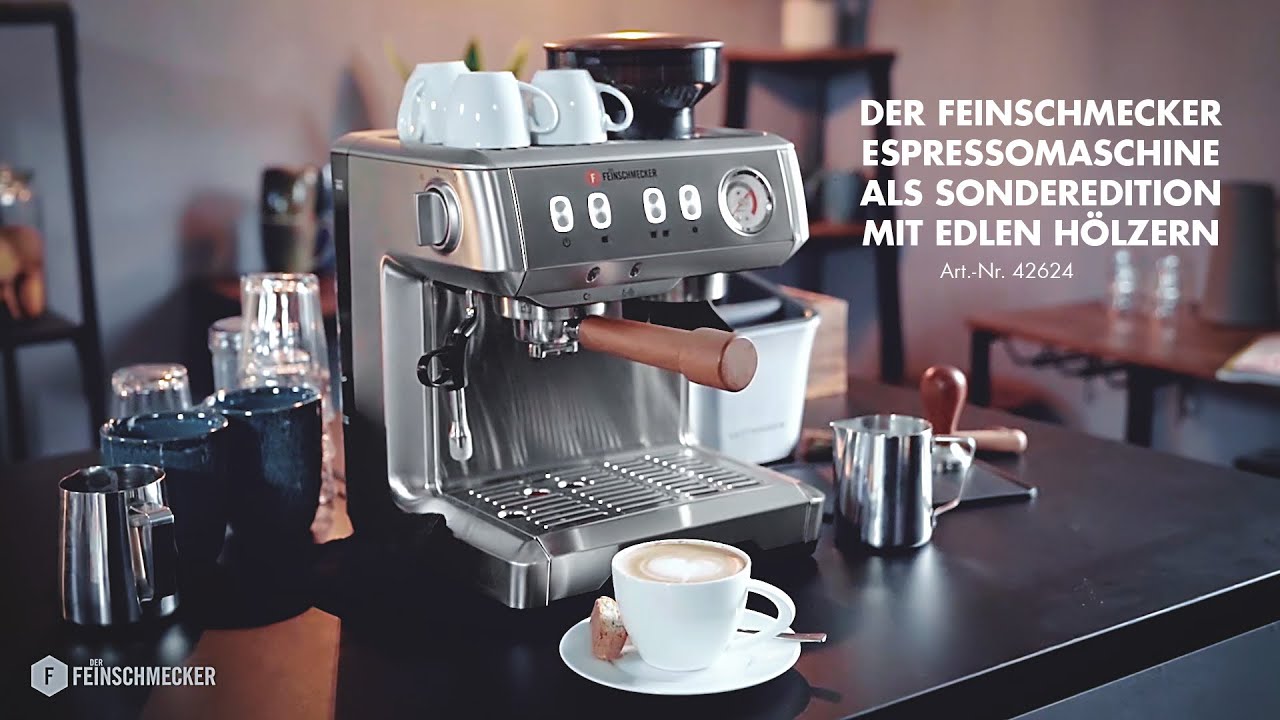 Click on the picture to start the video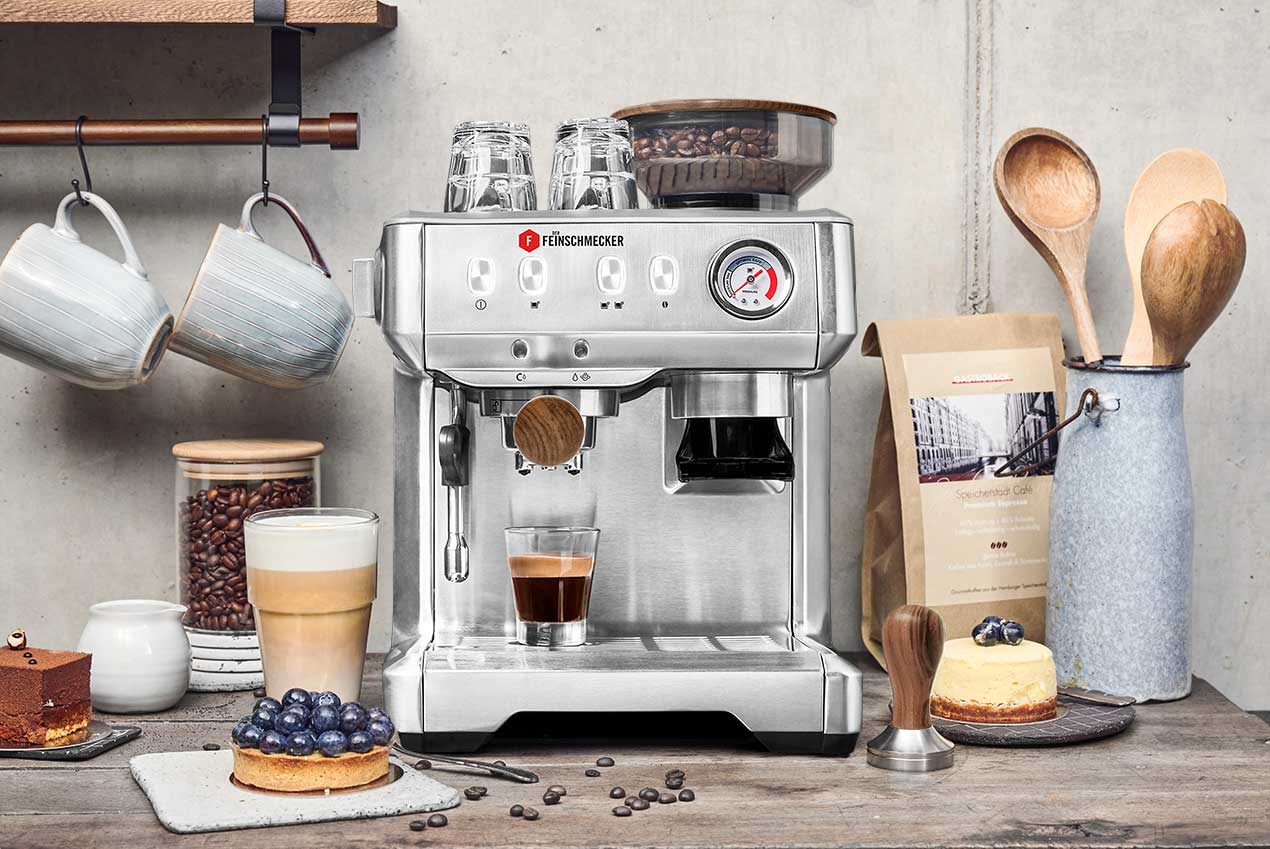 DER FEINSCHMECKER Special Edition
with elegant walnut wood applications
an exclusive gift
for you as a buyer of the Espresso machine - DER FEINSCHMECKER Special Edition with Fine Woods
---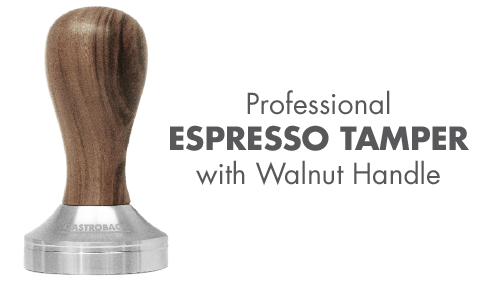 Visually impressive thanks to the incorporation of high-quality and elegant walnut wood in the handle of the portafilter, in the professional espresso tamper and in the cover of the bean hopper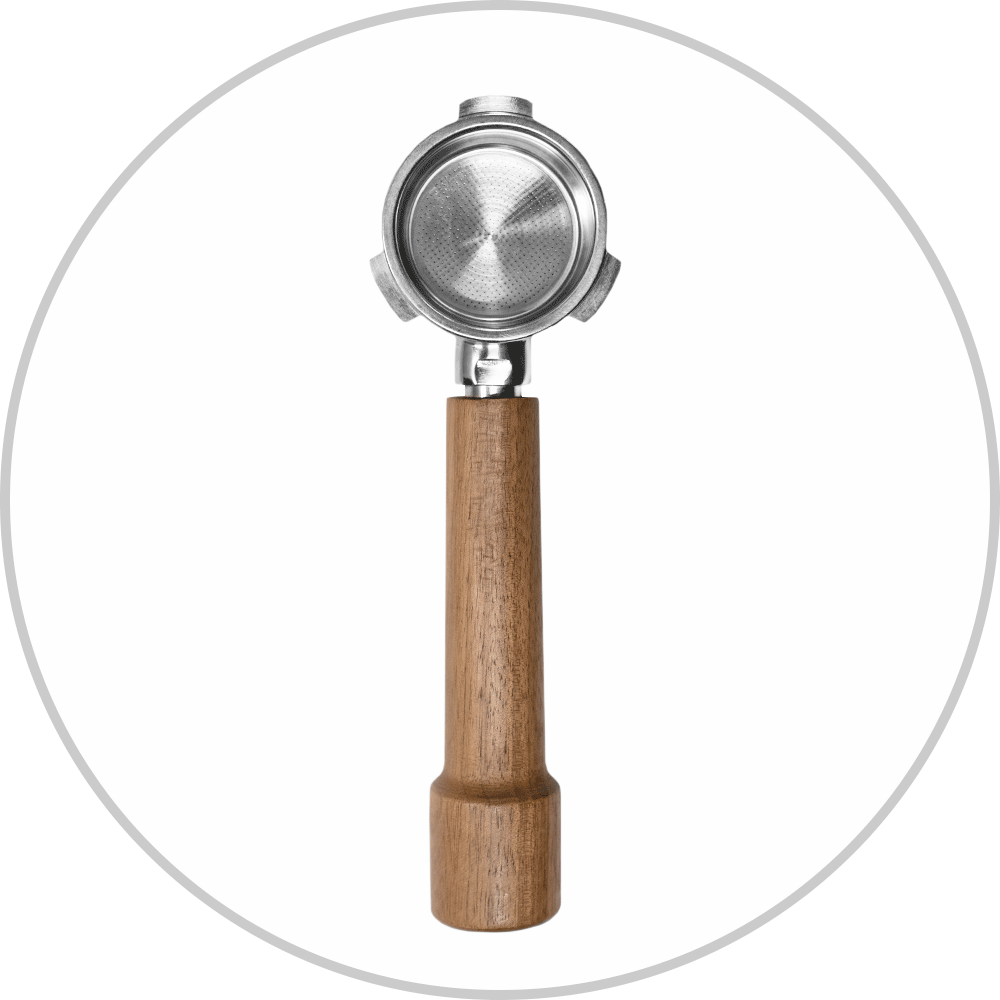 Portafilter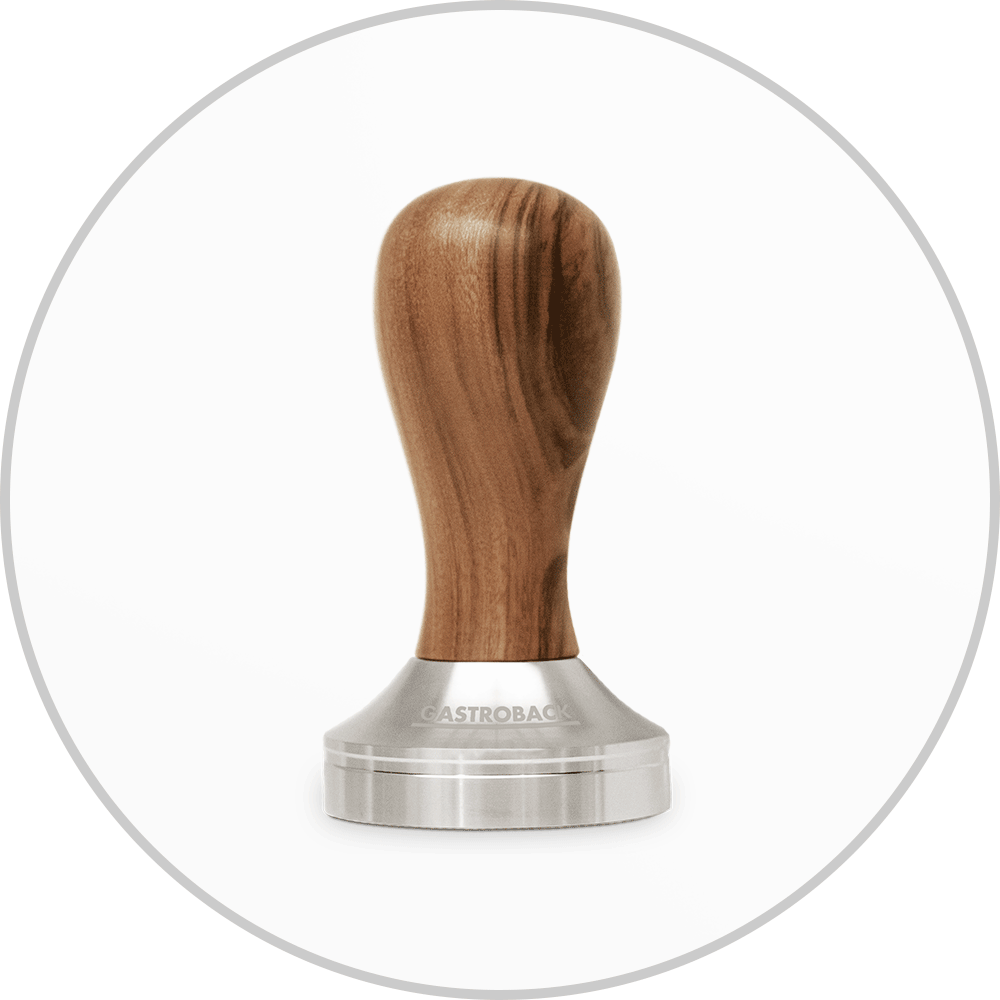 Professional Espresso Tamper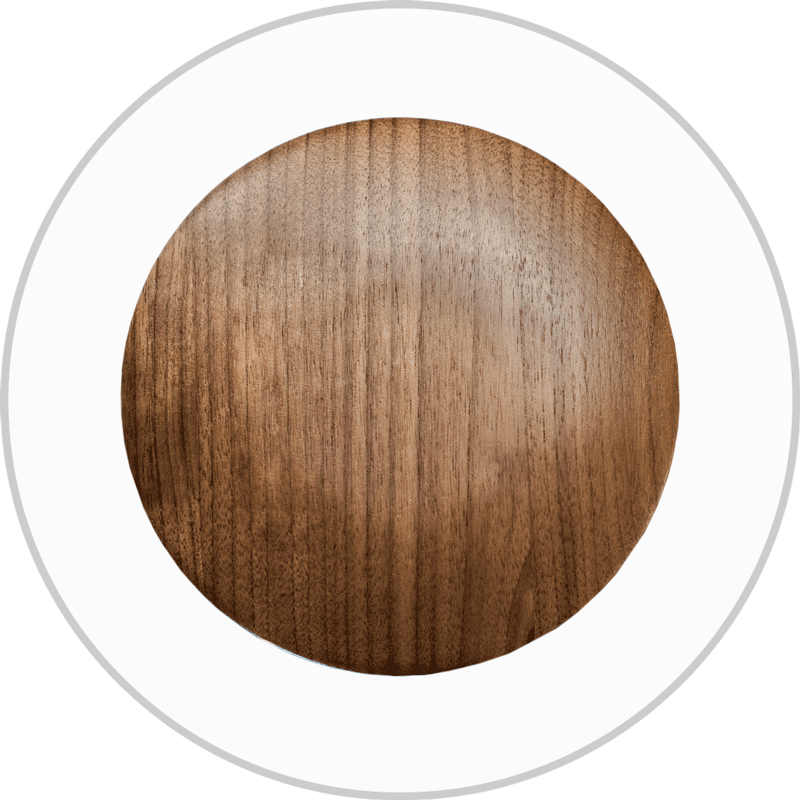 Bean Hopper Lid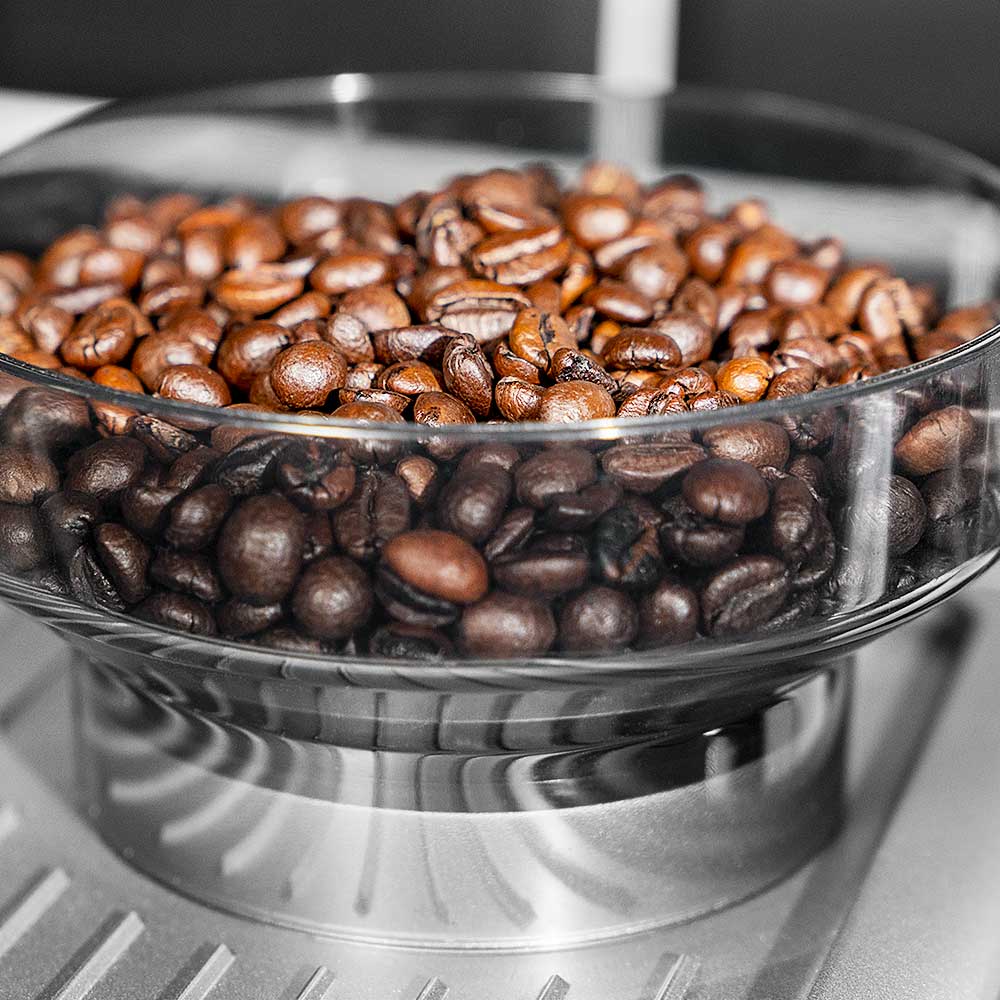 Integrated conical grinder
with 11 grinding degree settings and coffee powder quantity individually adjustable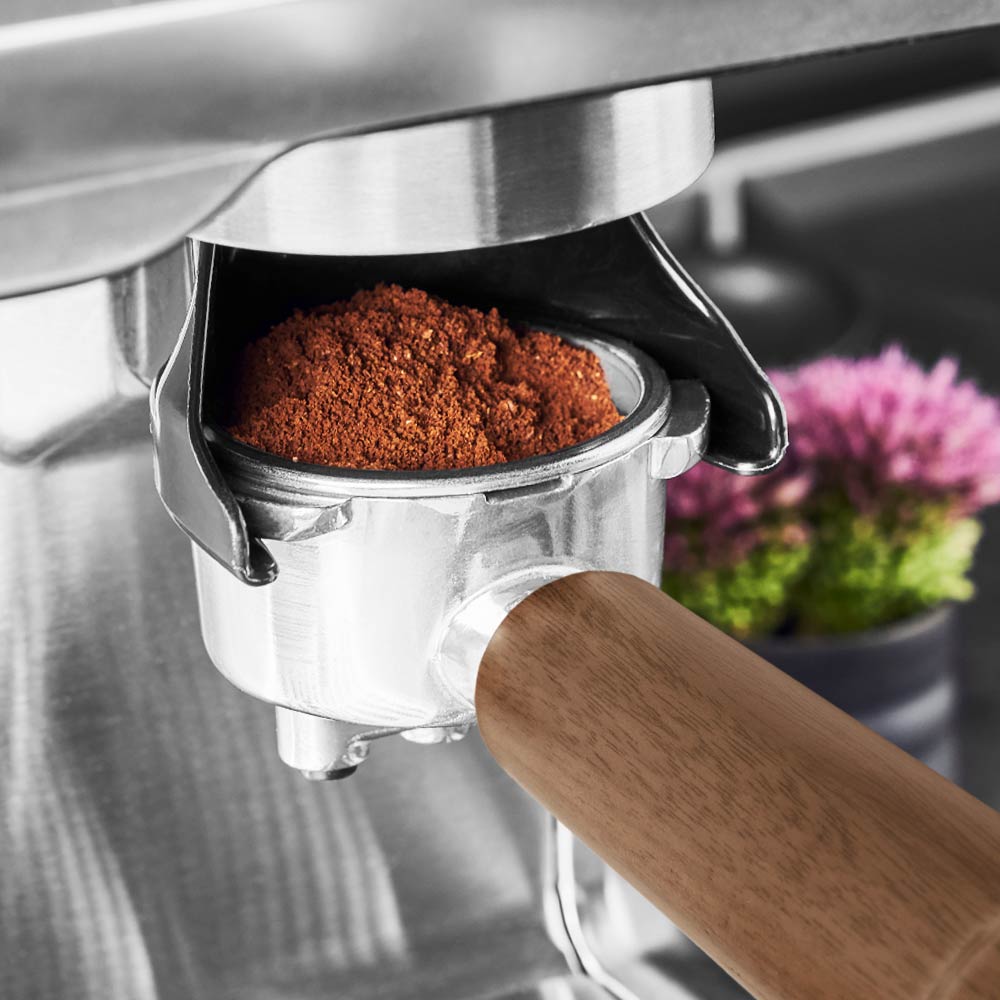 Direct grinding
in the Portafilter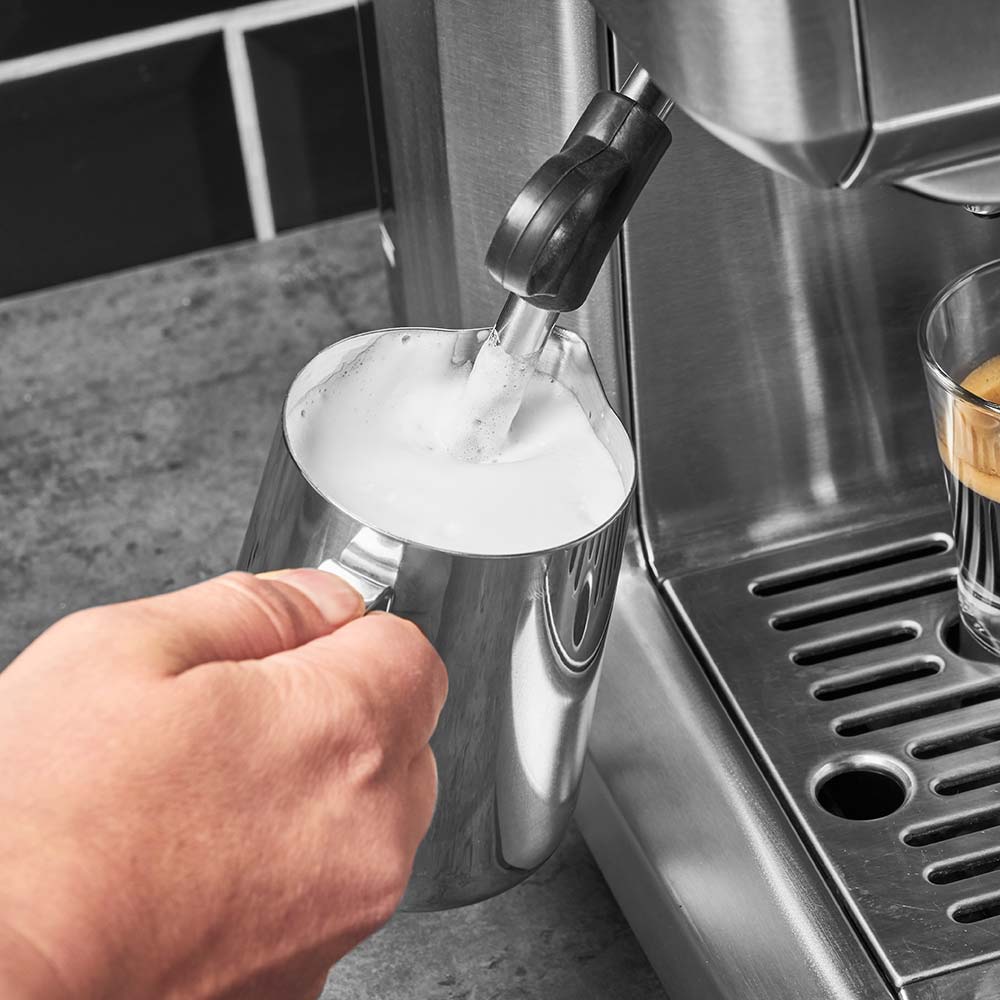 Milk frothing nozzle
with heat-insulated handle, can be swiveled through 360°
DER FEINSCHMECKER Special Edition with fine woods
Special Edition DER FEINSCHMECKER, visually captivation through the incorporation of high-quality and elegant walnut wood in the handle of the portafilter, in the professional espresso tamper and in the lid of the bean hopper
Programmable sieve-holder espresso machine with integrated conical grinder
For freshly-ground coffee beans, coffee powder or E.S.E. pads
For all speciality coffees from espresso, latte macchiato, cappuccino and Americano to Café Créme
Compact design, stainless steel housing (brushed)
Thermo-block heating system: fast warm-up time
Professional ULKA espresso pump (15 bar)
Integrated hot water function for Café AMERICANO, Café Créme or Tea
Programmable water quantity each cup
Pre-brew function
11 grinding grade settings and coffee powder quantity can be set individually
Beans fresh container for 220 g beans - for up to 30 shots of espresso
Pressure gauge, control function for brewing pressure
Heated warming plate for 6 espresso cups
360° rotatable milk frothing jet
Removable 2.5-litre water tank
Accessories included: Professional - Espresso - Tamper, single-walled filter insert for 1 and 2 cups, double-walled filter insert for 1 and 2 cups, filter insert for E.S.E. pads, milk frothing can, measuring spoon with espresso tamper, cleaning tool, water filter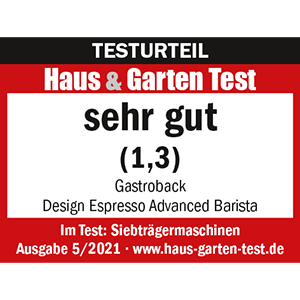 DER FEINSCHMECKER - The Culinary Icon
It is the leading media brand in the culinary world and the authority among magazines for connoisseurs - for over 45 years: DER FEINSCHMECKER. With Deborah Middelhoff as editor-in-chief, DER FEINSCHMECKER delivers reliable, curated recommendations and well-founded, contemporary content from all areas of enjoyment and cuisine for a demanding, pleasure-oriented, cosmopolitan and trend-conscious target group. Top restaurants and top chefs, culinary trips, current trends and innovations, recipes for beginners and ambitious hobby cooks, high-quality manufactured products and their committed producers, as well as tips and trends relating to wine, spirits and other beverages as well as tools and accessories are presented for the domestic kitchen and culinary styles. DER FEINSCHMECKER is the leading source of inspiration and comprehensive guidance in all questions of enjoyment - for everyone who loves the good life.
DER FEINSCHMECKER Special Edition with Fine Woods
Power supply:
220 - 240 V ~ , 50 - 60 Hz
Power consumption:
1600 Watt
Length of power cord:
approx. 70 cm
Dimensions:
approx. 288 x 305 x 395 mm (W x D x H)
Capacity water tank:
2.5 Liter
Capacity bean hopper:
max. 220 g
Certification:


DER FEINSCHMECKER Special Edition with Fine Woods
---
Here you will find the most frequently asked questions and the corresponding answers to this article.
Empfehlung zur Einstellung des Mahlgrades und zum richtigen Tampern/Anpressdruck
- Bitte stellen Sie den Mahlgrad zu Beginn immer auf ganz GROB / COARSE Stufe 11 ein (Mahlrad ganz nach links drehen).
- Verändern Sie den Mahlgrad dann bei Bedarf nach und nach, indem Sie in kleinen Schritten die Mahlgradeinstellung feiner drehen.
- Stellen Sie den Mahlgrad am besten nur bei laufendem Mahlwerk ein.
- Mahlen Sie 3 Portionen in der neuen Mahlgradeinstellung, um das Mahlwerk einzustellen.
- Tampern Sie zunächst mit geringem Anpressdruck (max. 5 kg) um ein Gefühl für den richtigen Anpressdruck zu bekommen.
Jeder Barista kennt das: Geschmäcker sind subjektiv. Experimentieren Sie mit dem Mahlgrad, der Mahlmenge und dem Anpressdruck bis Sie Ihre Lieblingseinstellung gefunden haben.