Air Purifier AG+ AirProtect
ideal for allergy sufferers & asthmatics
Removes up to 99.9% of COVID-19 viruses
Ideal for offices, break rooms, schools, kindergarden, waiting rooms and restaurants
Particularly quiet (≤ 35 dBA, level 1)
Watch product video now
Prices incl. VAT plus shipping costs
Ready to ship today,
Delivery time appr. 3-4 workdays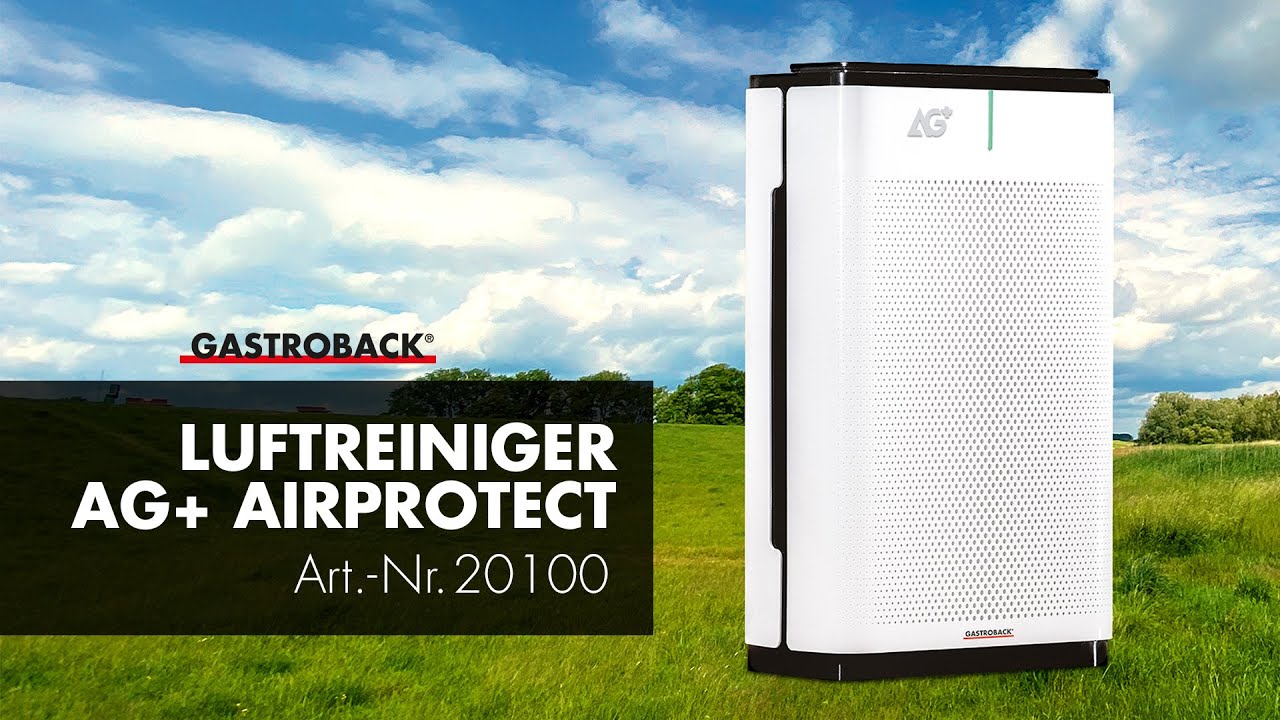 To start the video, click on the picture

Air Purifier AG+ AirProtect
Innovative five-stage air disinfection and filtration without using chemicals with particulate matter sensor (PM2.5) for monitoring air quality
AG+ Antiviral Filter Technology removes 99 % of airborne viruses and aerosols and inactivates COVID -19 viruses*
Removes up to 99 % of allergens such as pollen and particulate matter, household dust, mould spores, dust mites, animal dander, odours and bacteria*, ideal for allergy sufferers and asthmatics
Air disinfection and filtration consisting of prefilter, HEPA, silver ion filter, nanocrystalline filter, UV light and plasma sterilization
Plasma sterilization: Using air and electrical energy, this produces a plasma discharge that destroys germs at lightning speed
CADR 375m3/h (CADR = volume of air filtered by the air purifier, measurement of purification speed)
Suitable for rooms up to 50 m²
2 purification modes (automatic mode and sleep mode)

Automatic mode: detects and removes allergens and invisible pollutants continuously (e.g. formaldehyde), with digital display to detect air quality and values for allergens, particulate matter and gas in real time
Sleep mode: silent purification and dimmed display lighting

Timer function: adjustable switch-on time (length of time) and switch-off time
Fan speed adjustable to three levels
Especially quiet (≤ 35 dBA in fan speed 1)
Purification filter is especially durable (approx. 2000 hours corresponds to 6 - 8 months)
Reminder feature for change of filter
Equipped with child safety features
Can be set up immediately, filter set included with delivery
Use of energy 95 Watt / 0.095 kWh
Weight: approx. 8.3 kg
Measurements: 390 mm x 211 mm x 628 mm
* Certified by the US laboratory MRIGlobal
Innovative five-stage air disinfection and filtration with fine dust sensor (PM2.5) for monitoring the air quality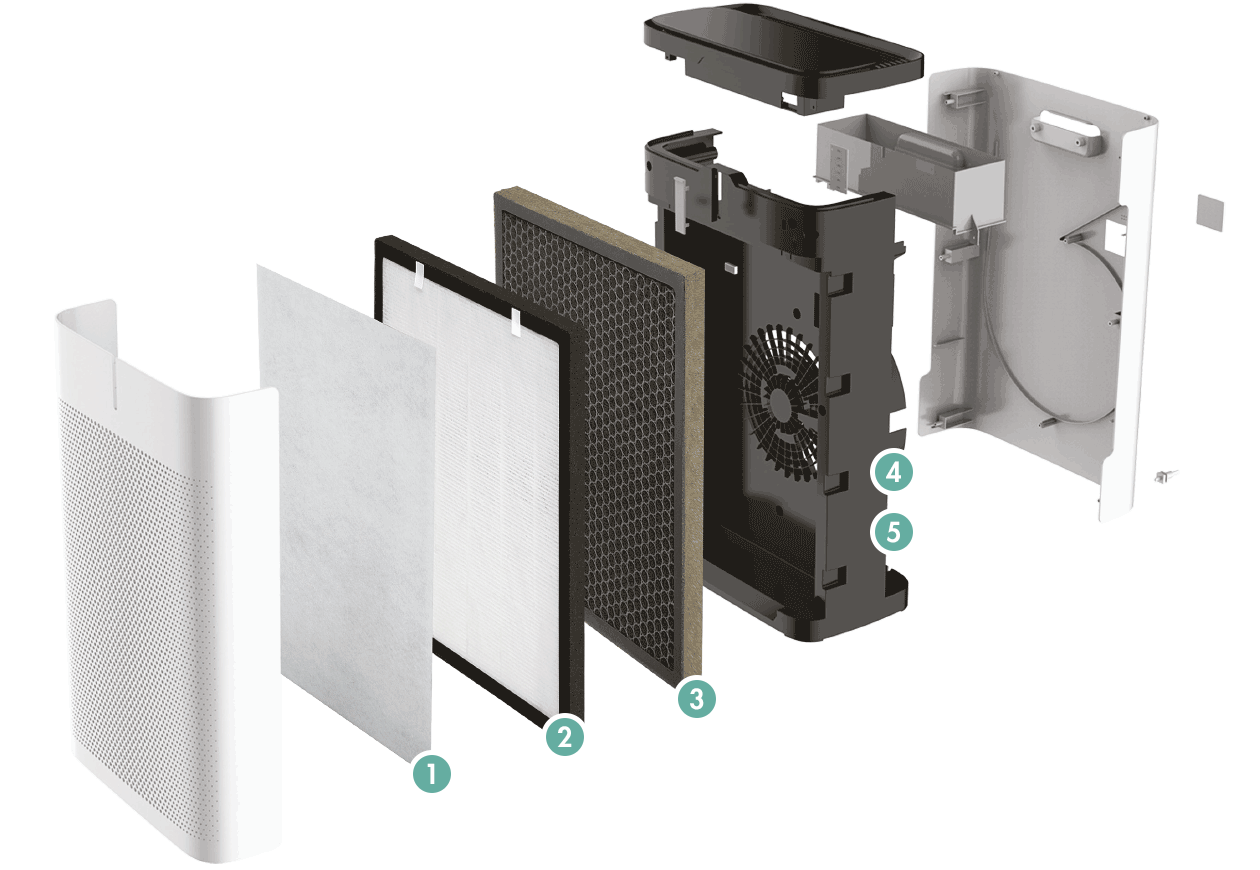 1.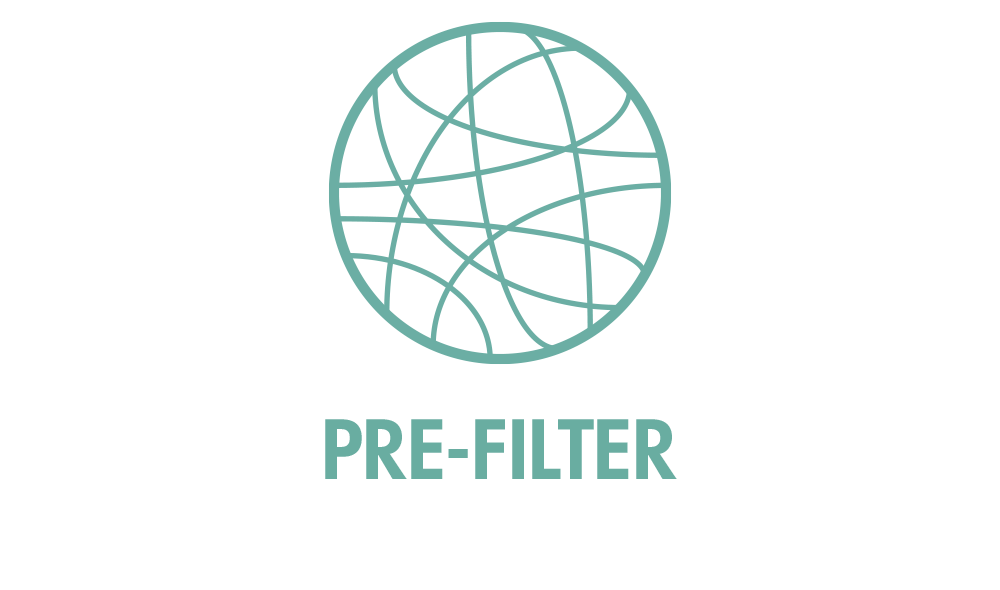 Captures hair, fibre, particles, dander, etc. Can be vacuumed and reused.
2.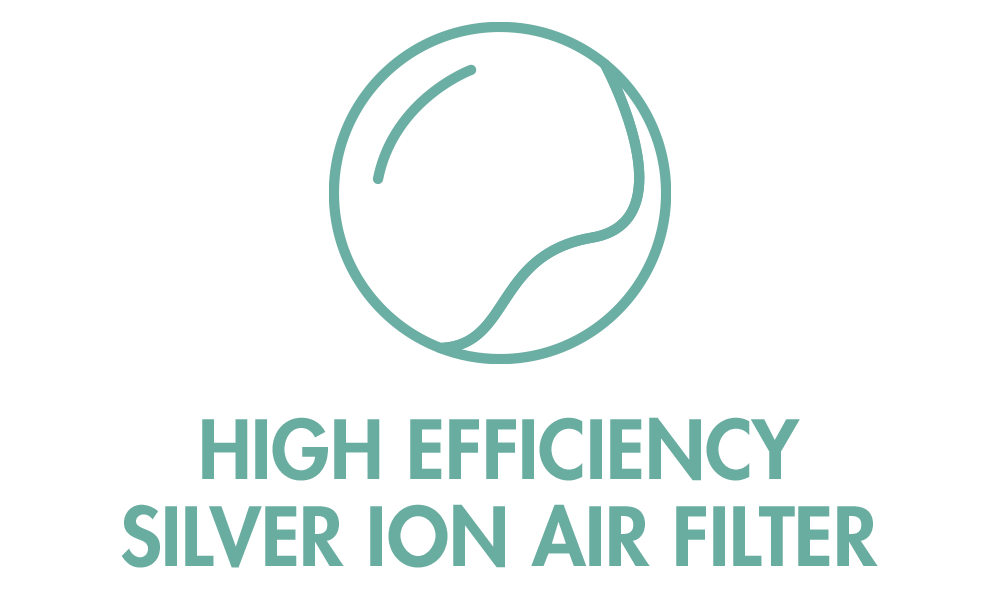 99.7% filtration efficiency for PM0.3, and can filter airborne particles ≤ 0.01µm. The filter combined with silver ions can effectively eliminate COVID-19, general viruses, bacteria and mould.
3.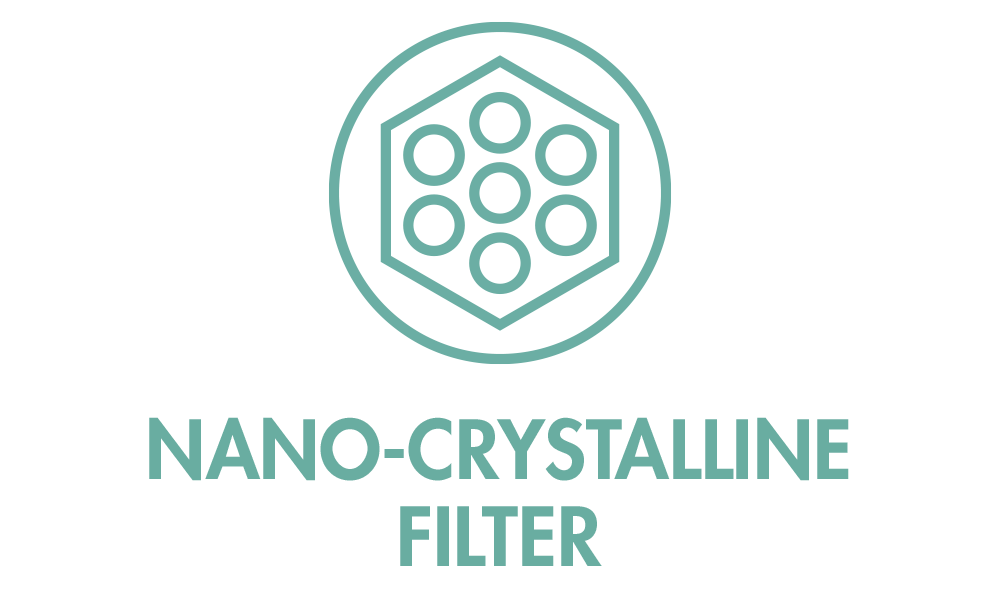 Natural non-metallic minerals are used to remove harmful gases, formaldehyde, benzene, VOC and odour from the air.
4.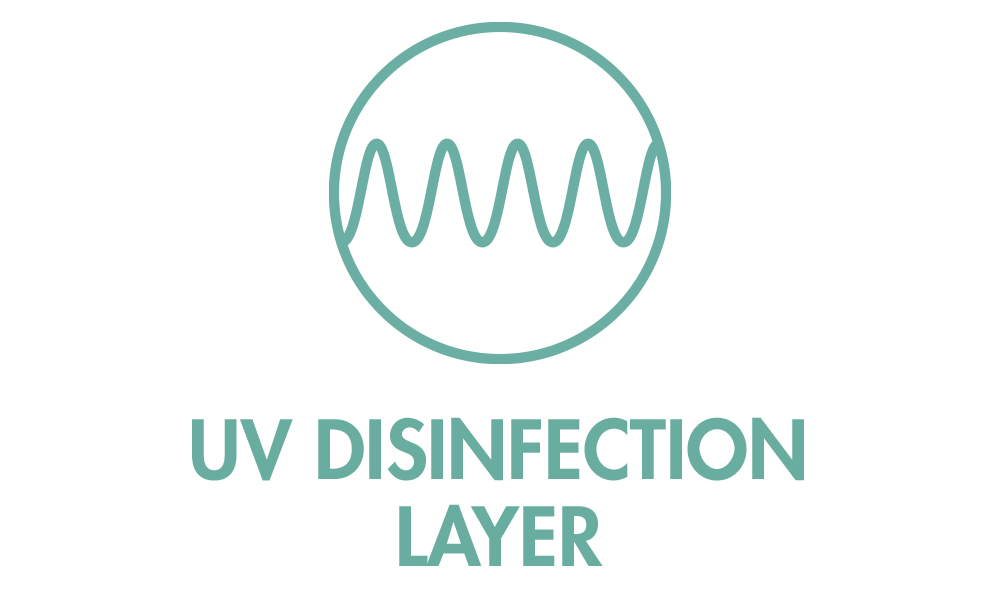 UV lamp sterilizes the air and eliminates virus.
5.
Positive and negative ions generated by the plasma generator neutralize in the air, producing a great amount of energy in order to destroy microorganisms.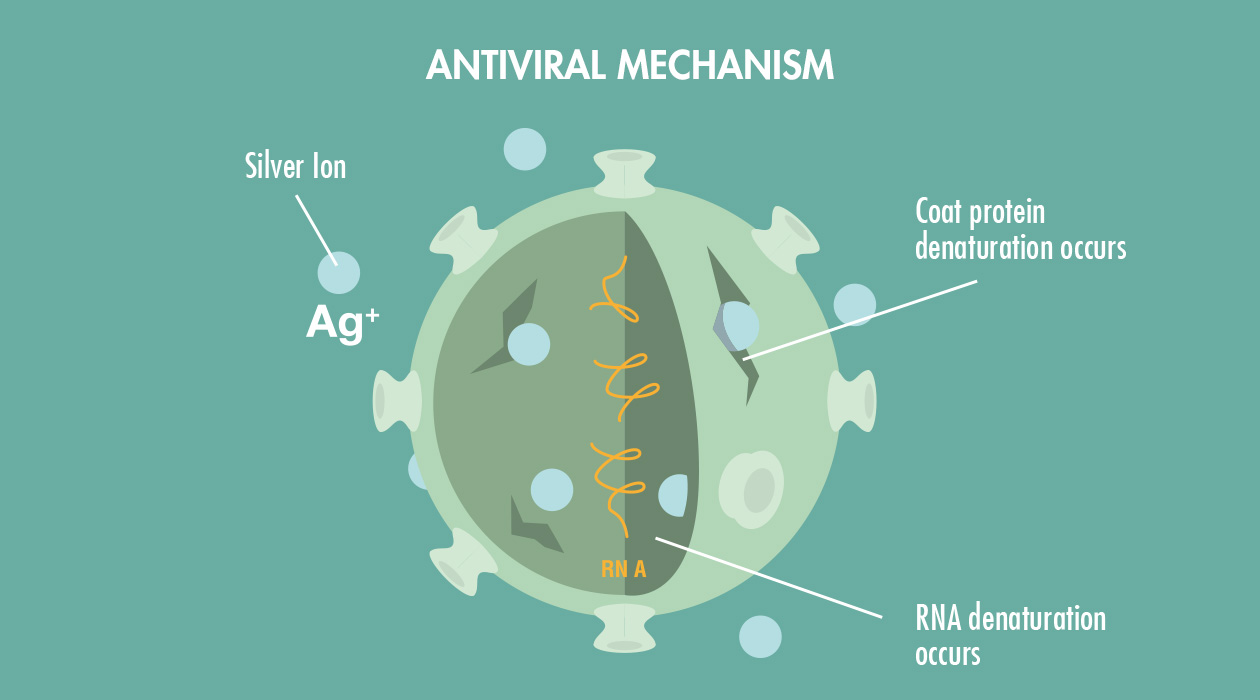 Ag+ ions interact with the virial surface proteins and damage the protective coat.
Ag+ ions pass through the defective coat and enter into the virus, and bind to the genome causing denaturation.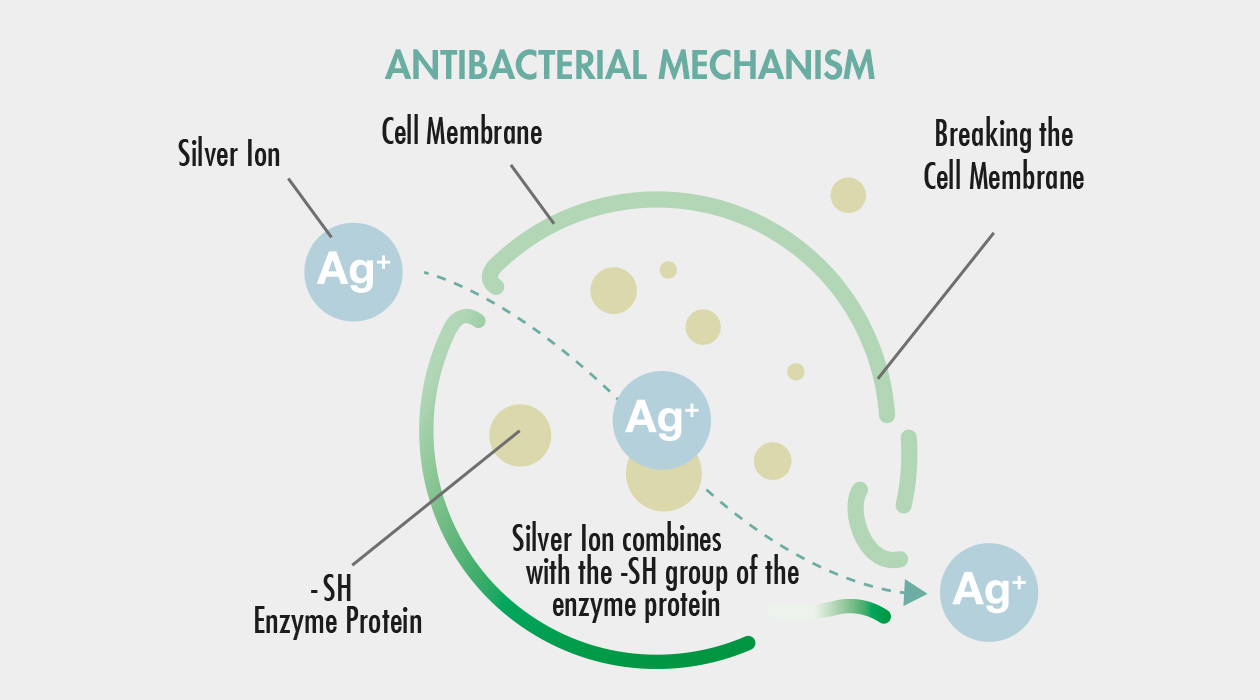 Ag+ Ion breaking the cell membran and gets into the bacterium. Silver Ion combines with the -SH group of the enzyme protein.
Silver Ion detaches from the bacterium, reaching for next bacterium.
The GASTROBACK® Air Purifier AG + AirProtect uses the silver - ion - air filtration technology. Silver ions are widely used in medical applications to successfully fight bacteria and viruses. There are five silver ion mechanisms to suppress and destroy viruses. If the silver ions come into contact with the virus, the ability to infect and replicate is severely restricted.
Ideal for offices, break rooms, schools, day care centers, waiting rooms and restaurants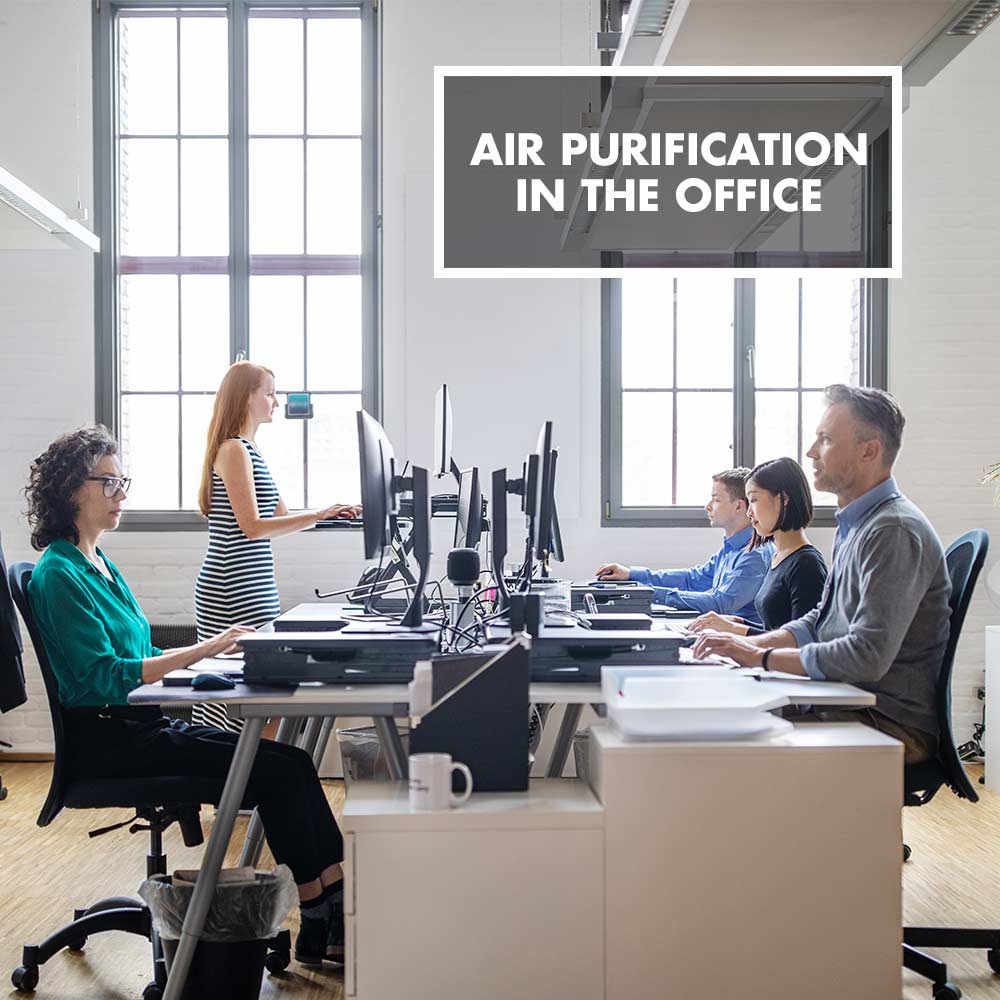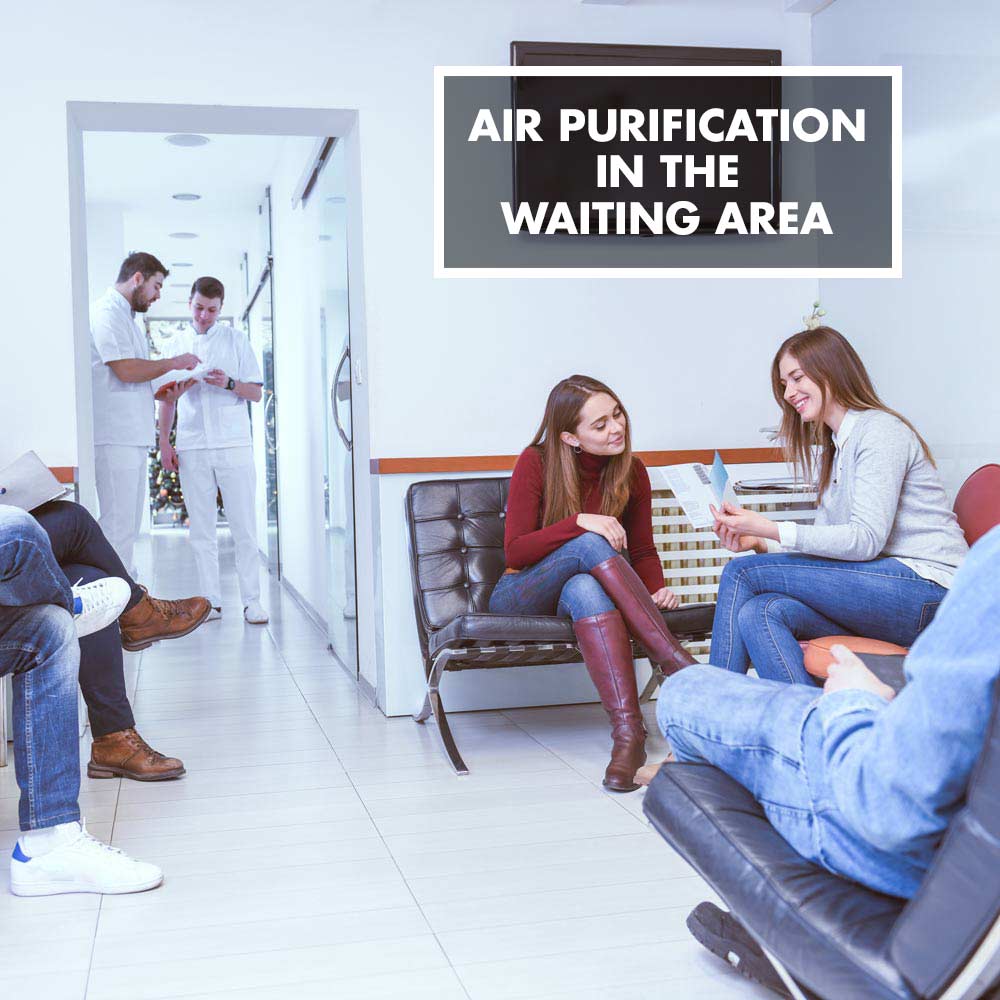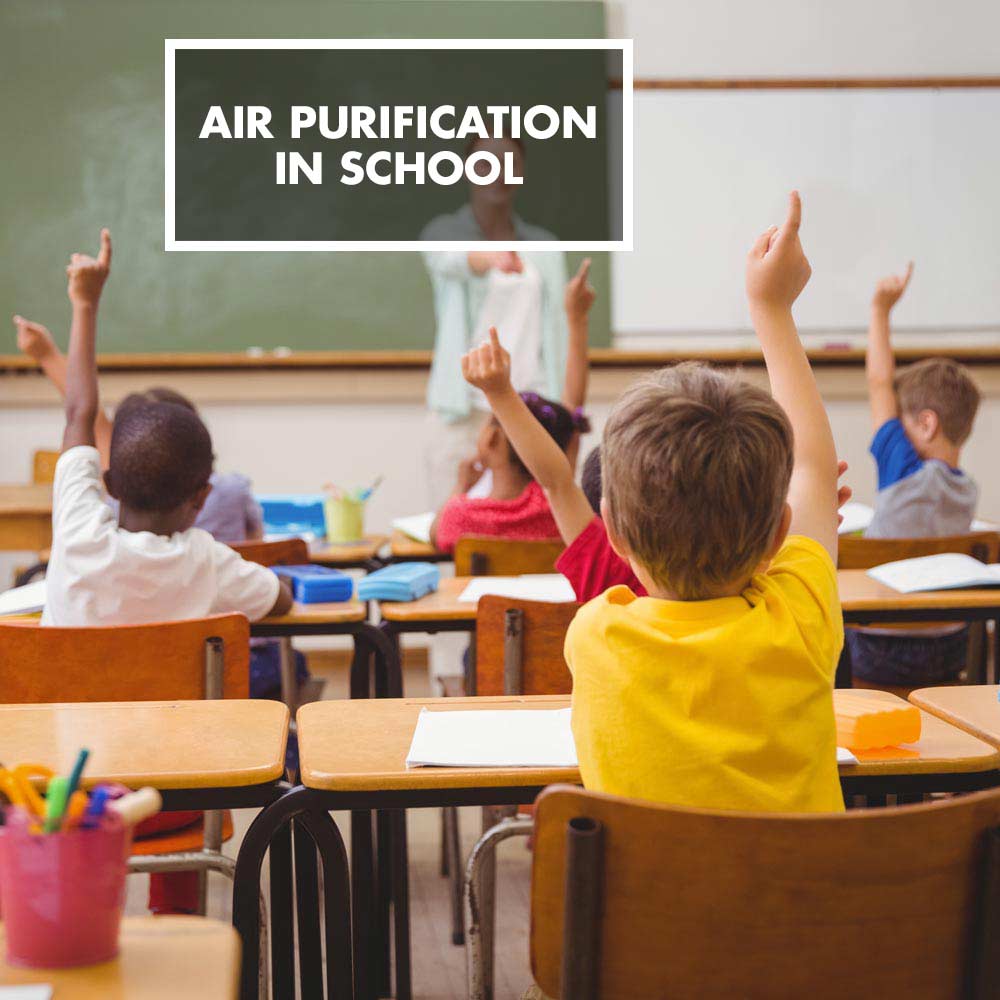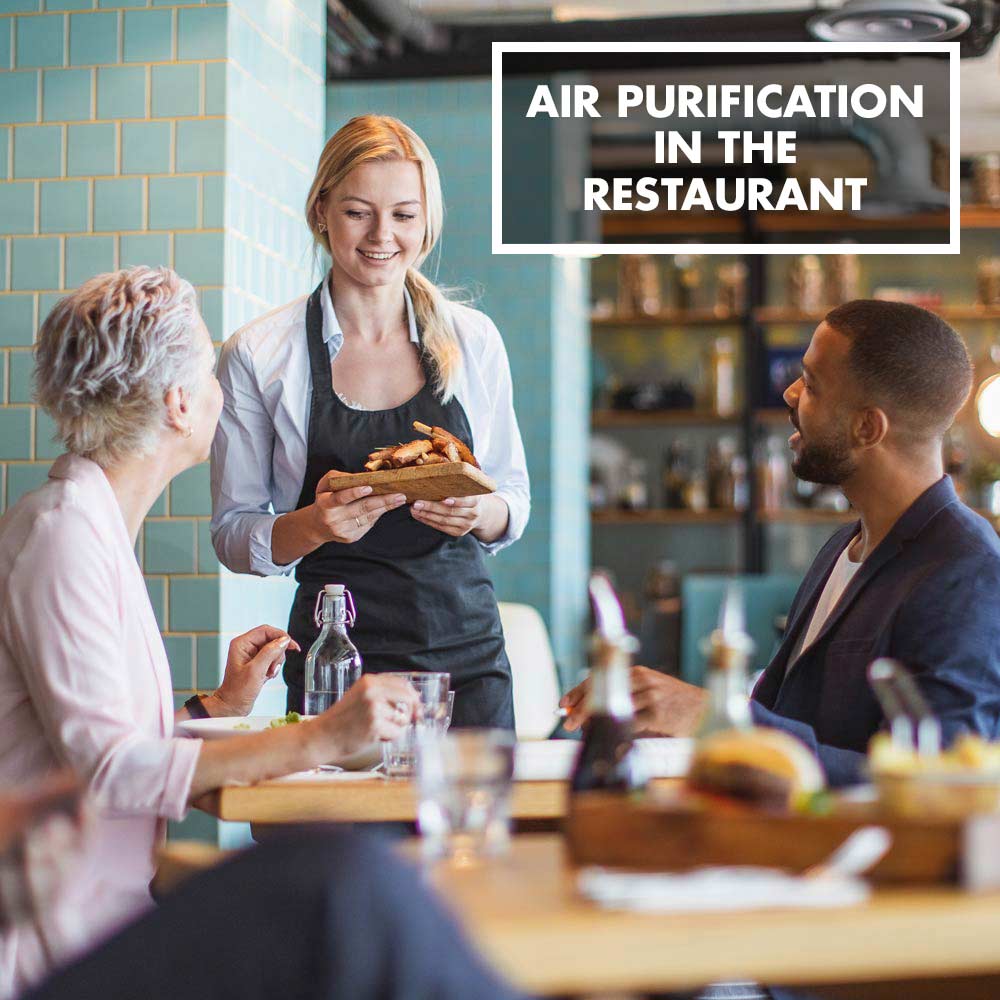 Removes pollen and odors - ideal for allergy sufferers and asthmatics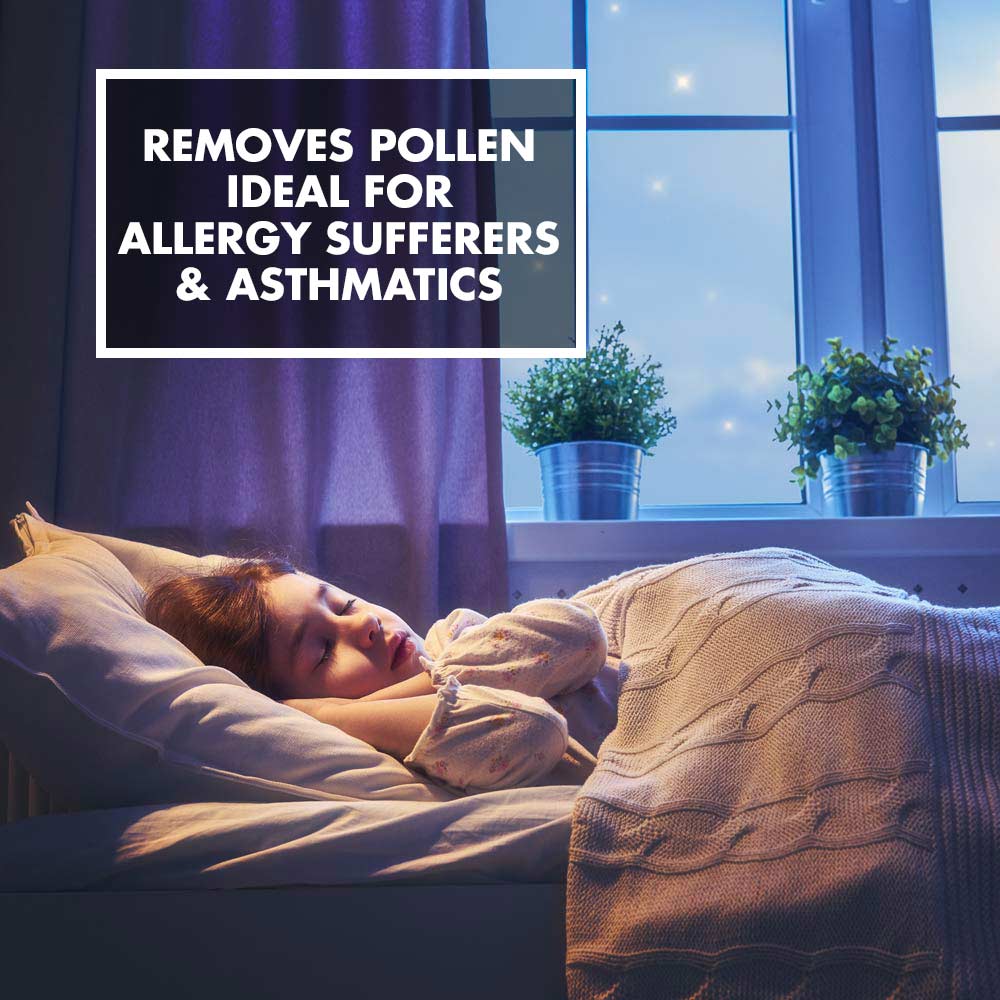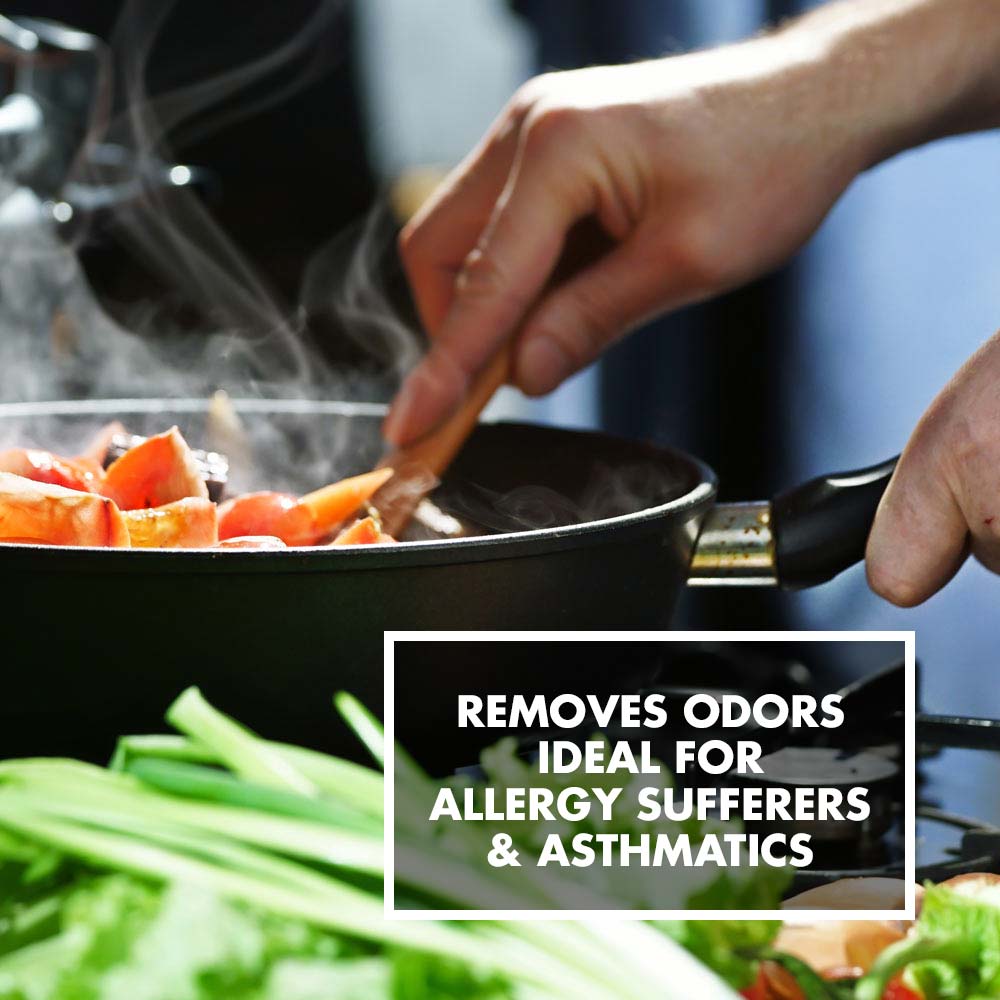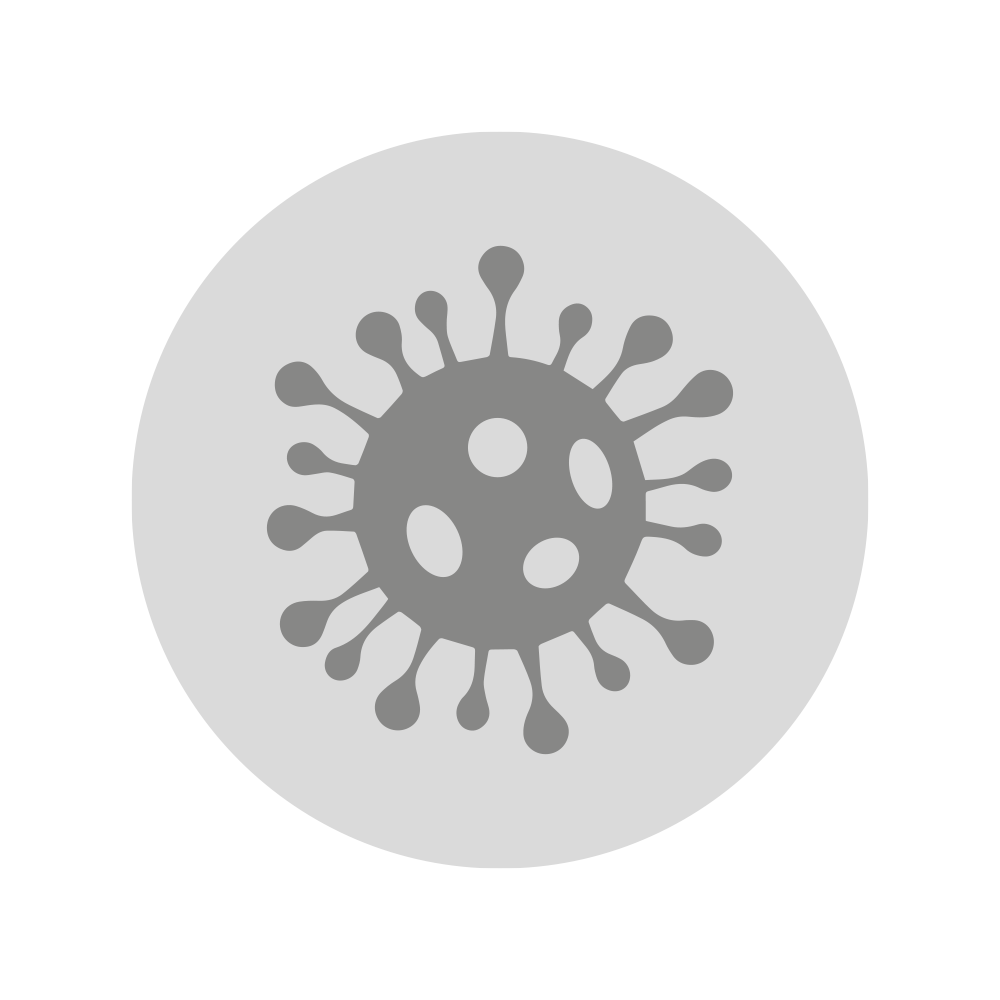 Viruses and Aerosols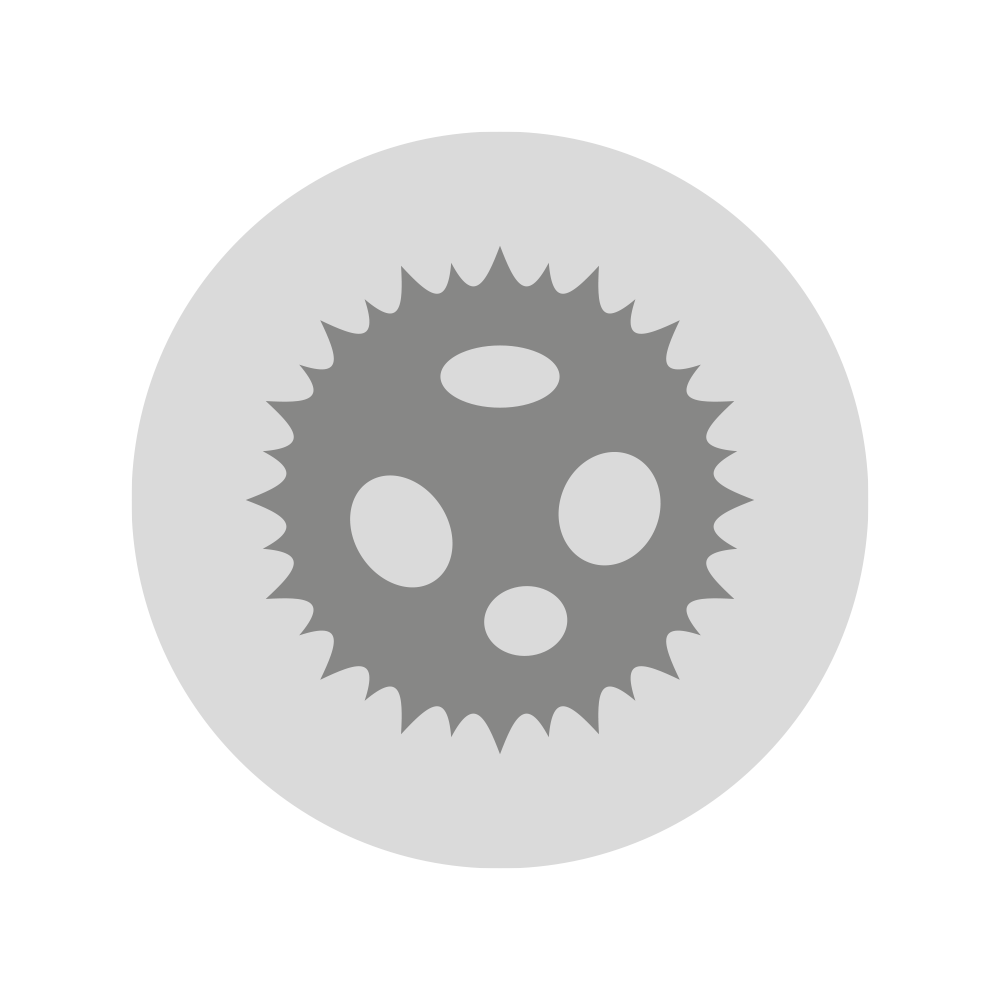 Mold Spores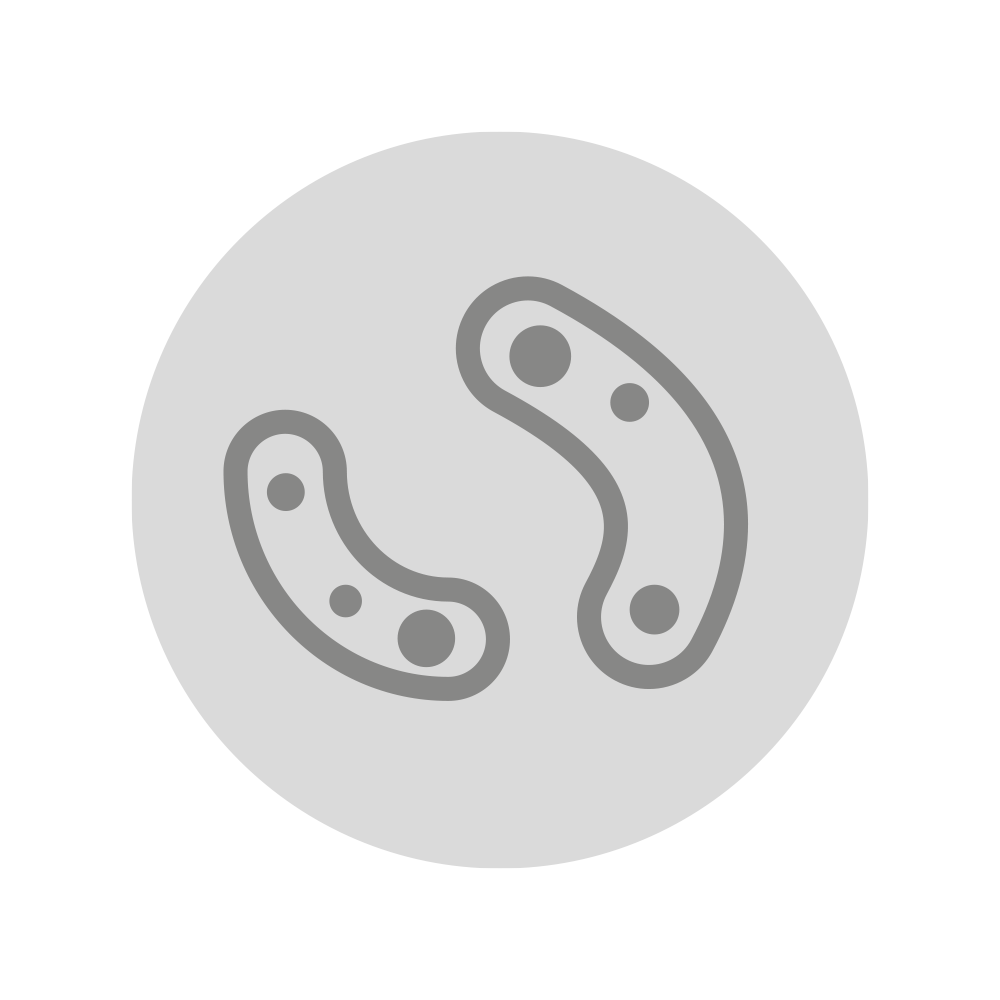 Bacteria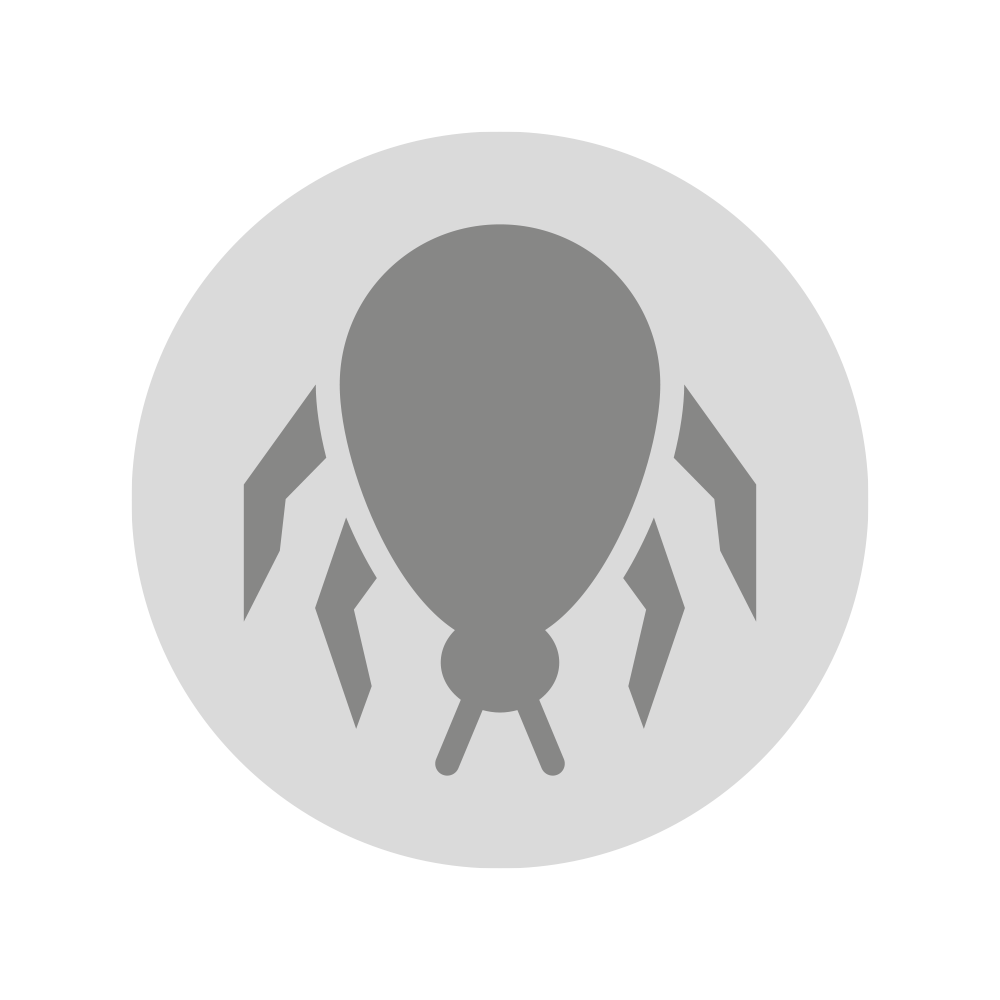 Mites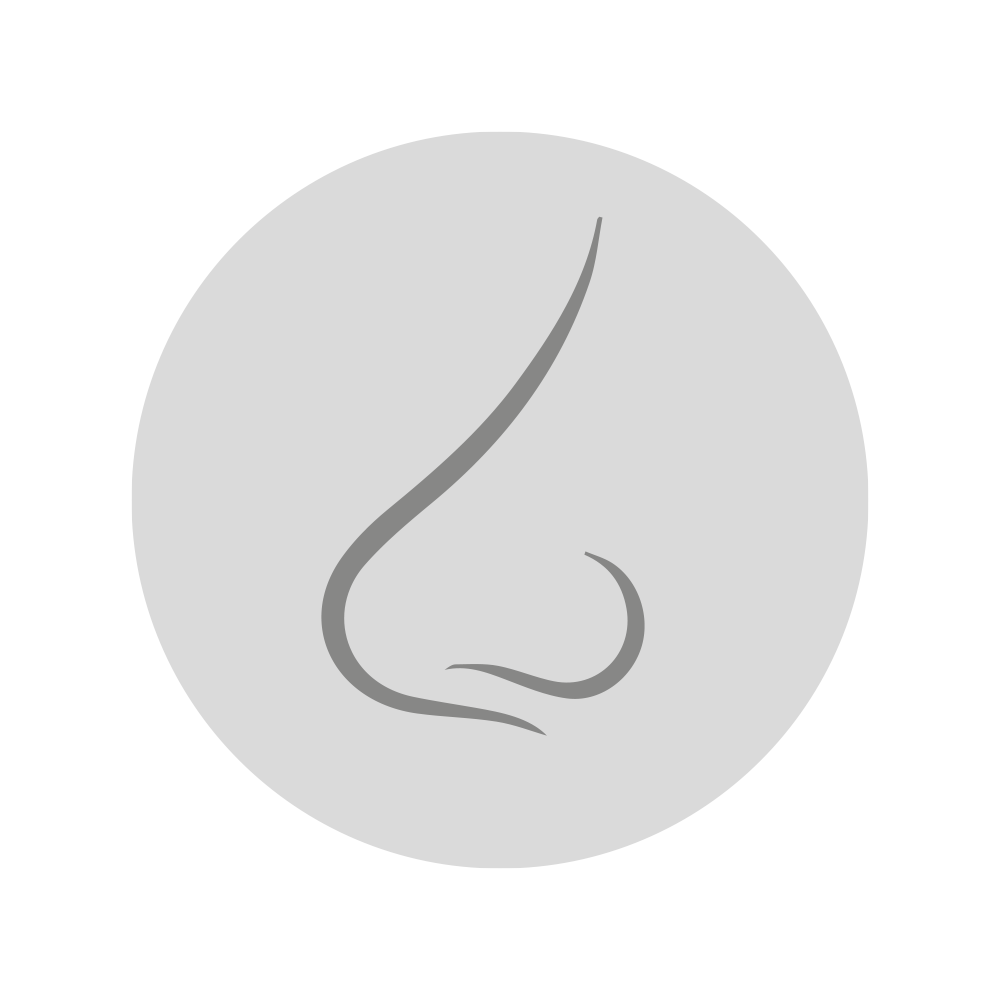 Odor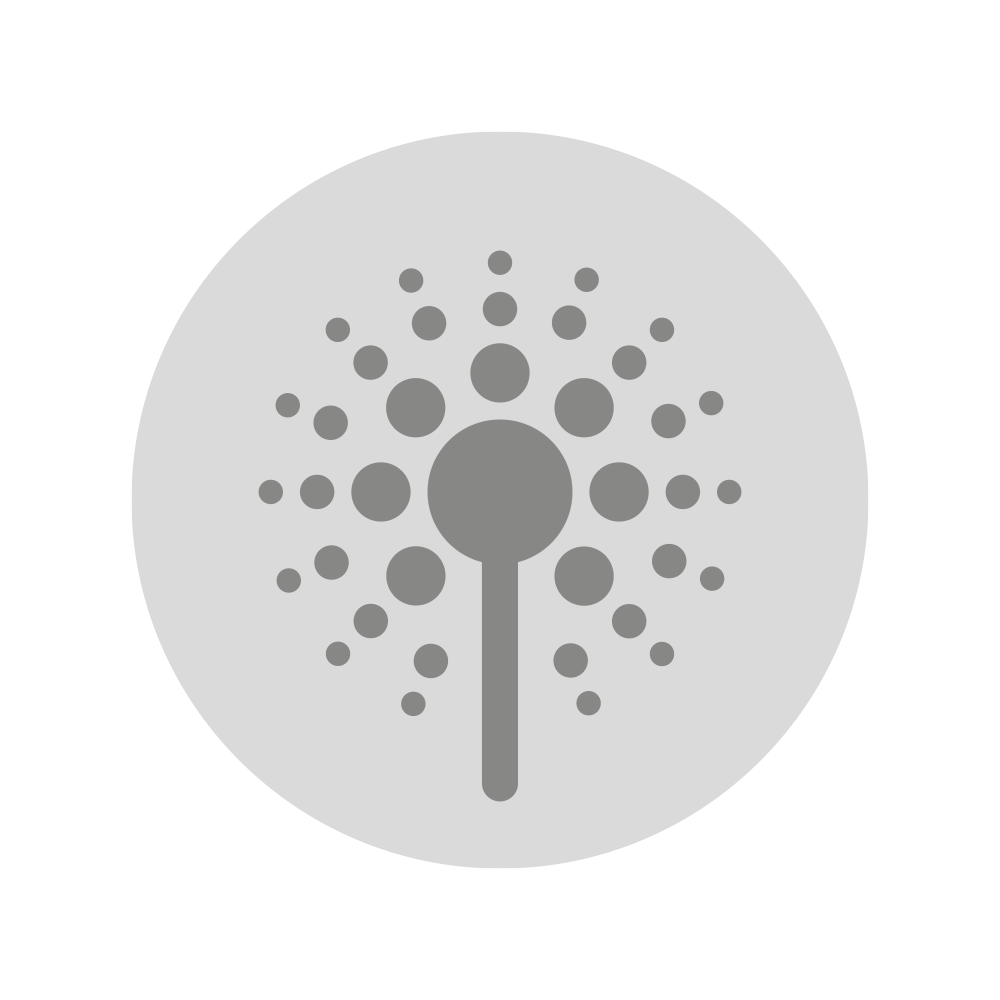 Pollen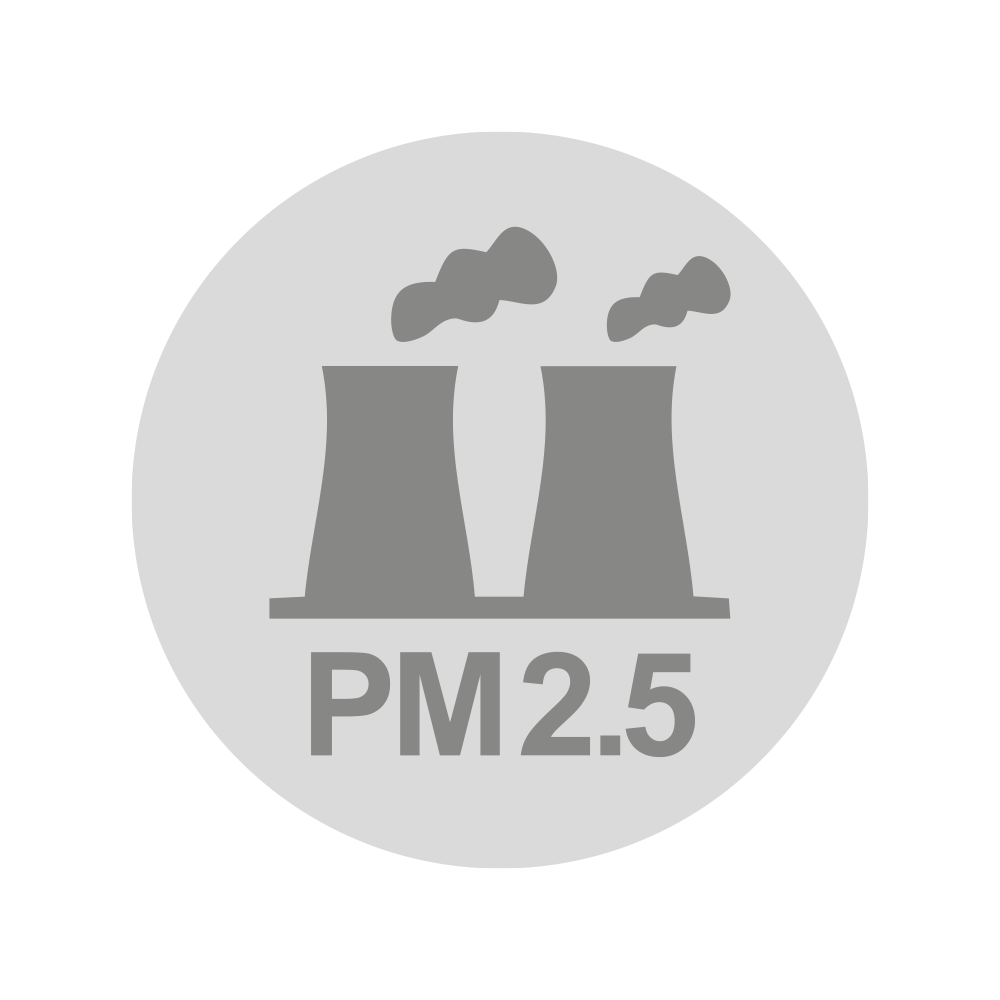 Fine Particles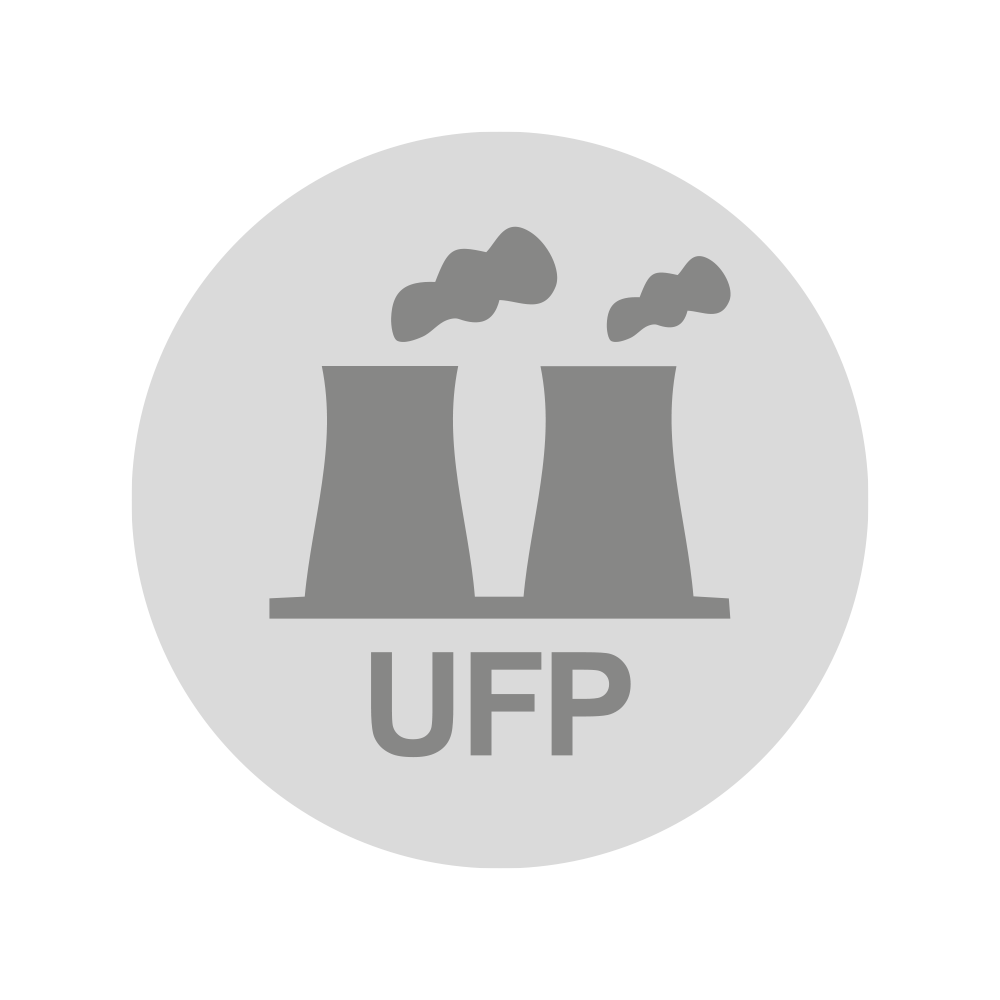 Ultra Fine Particles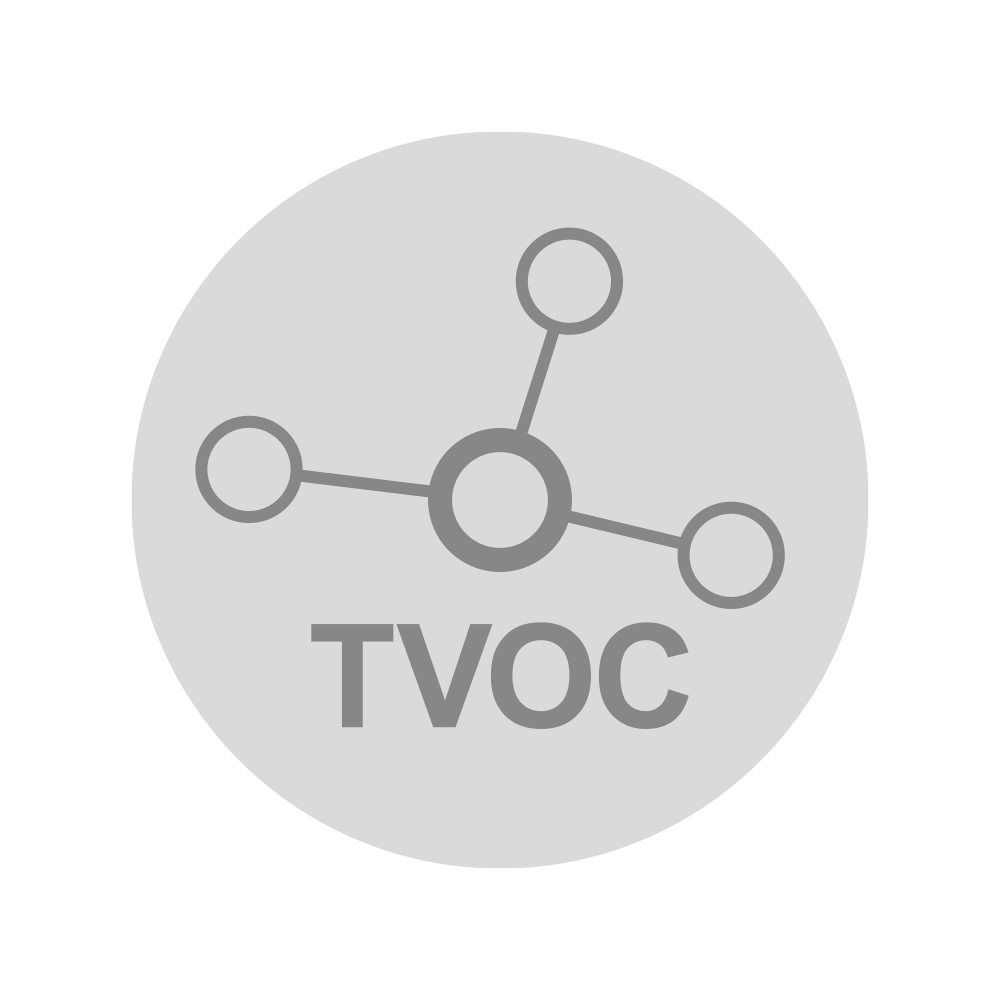 TVOC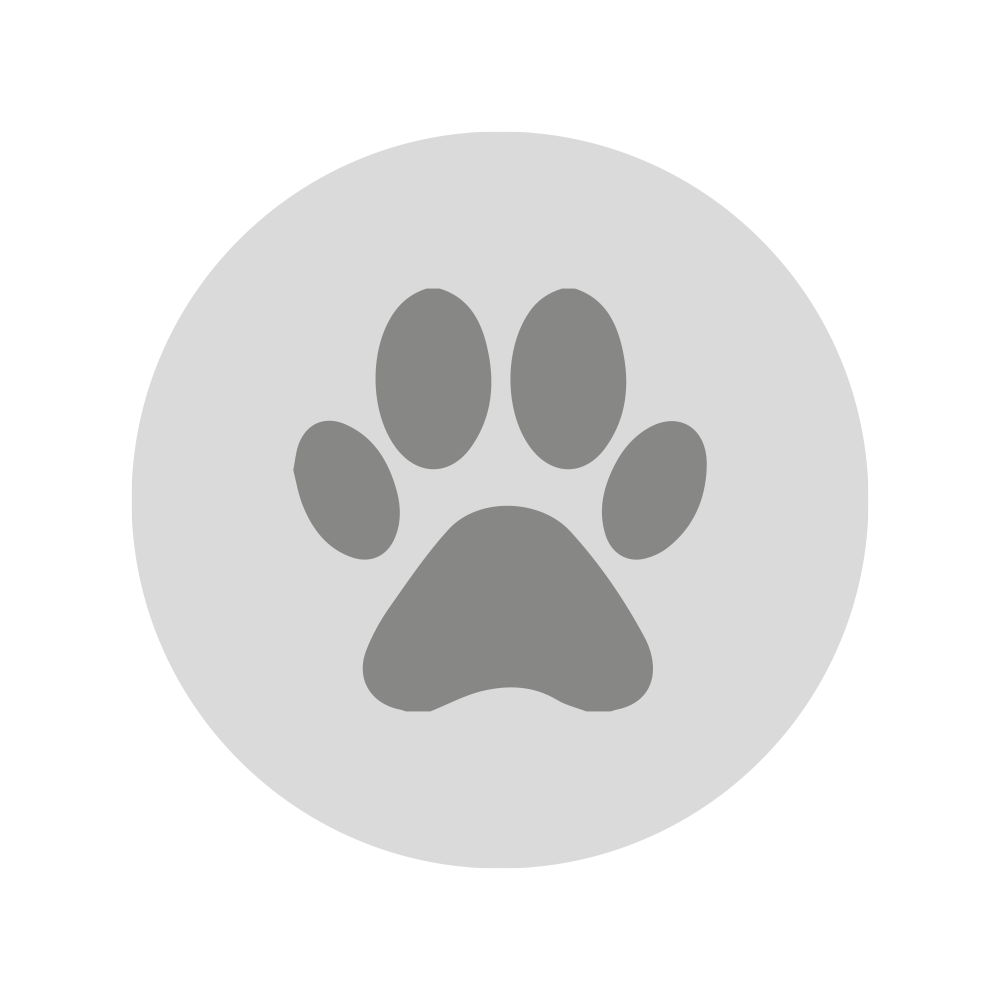 Animal Shed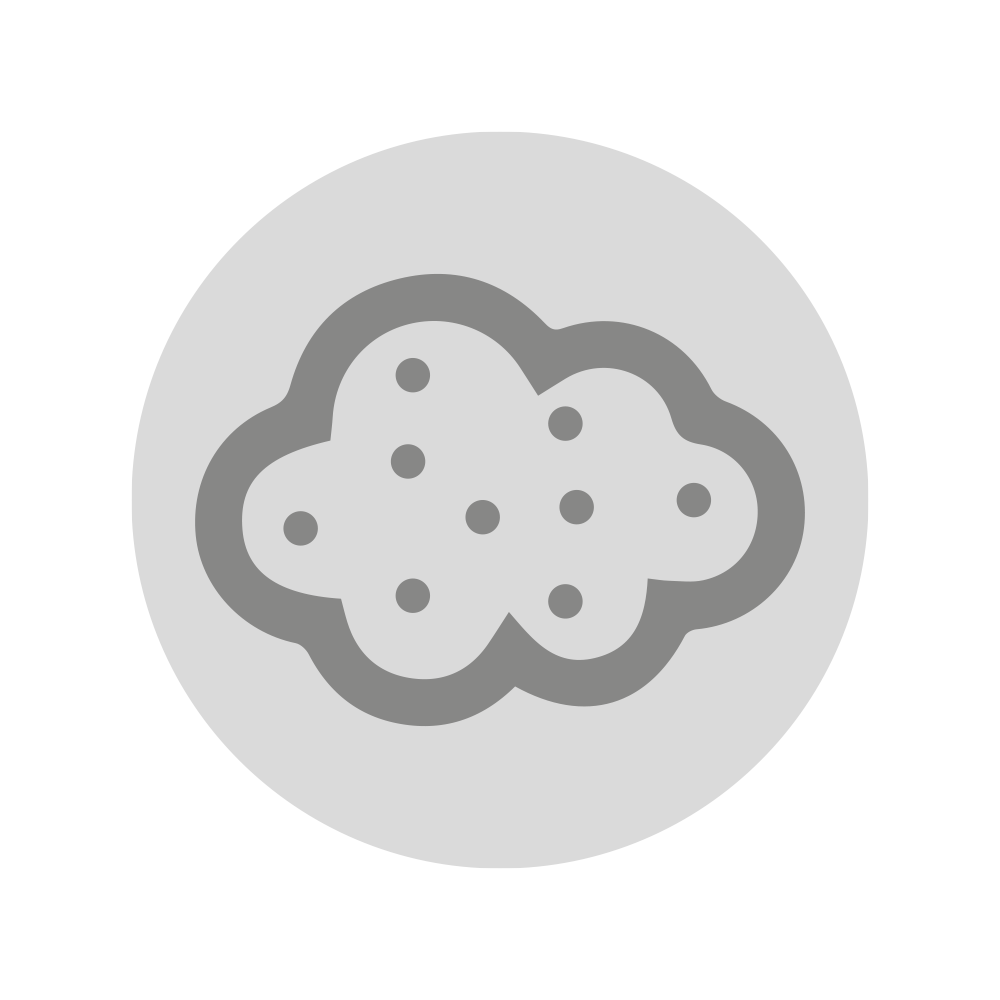 Dust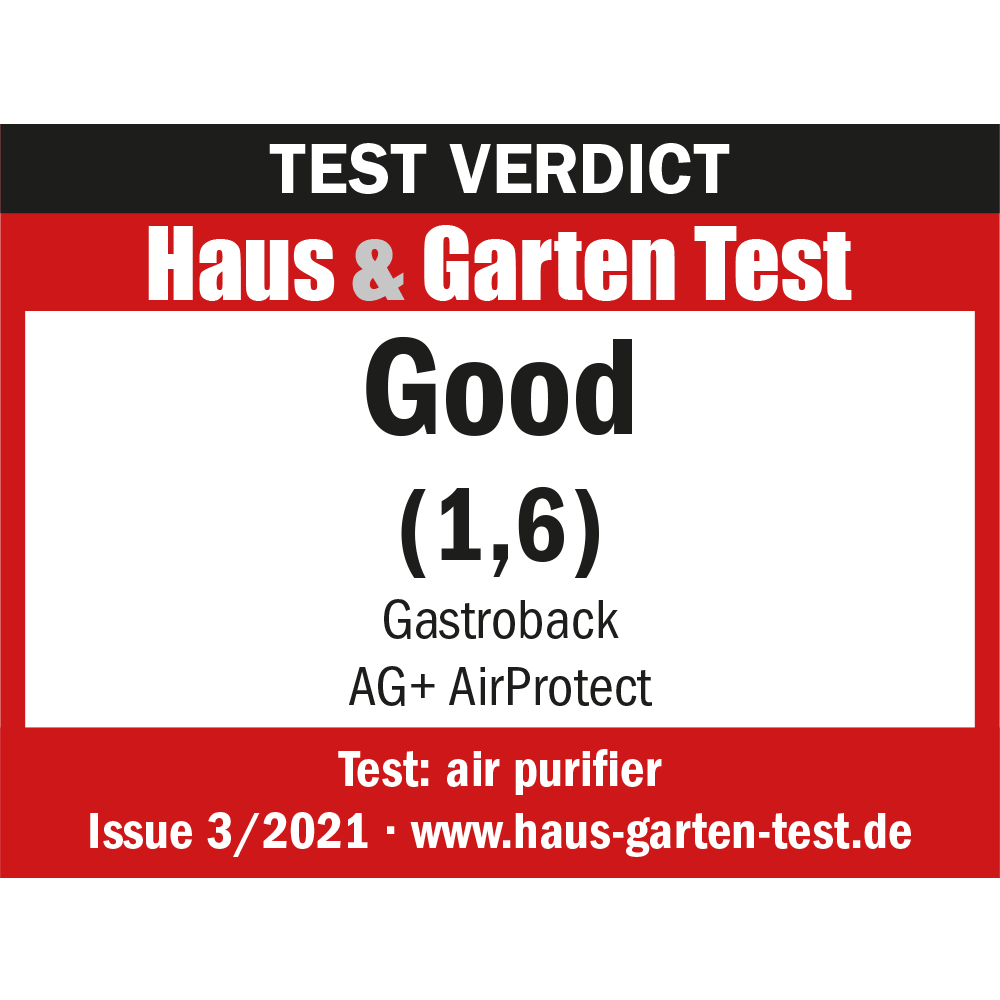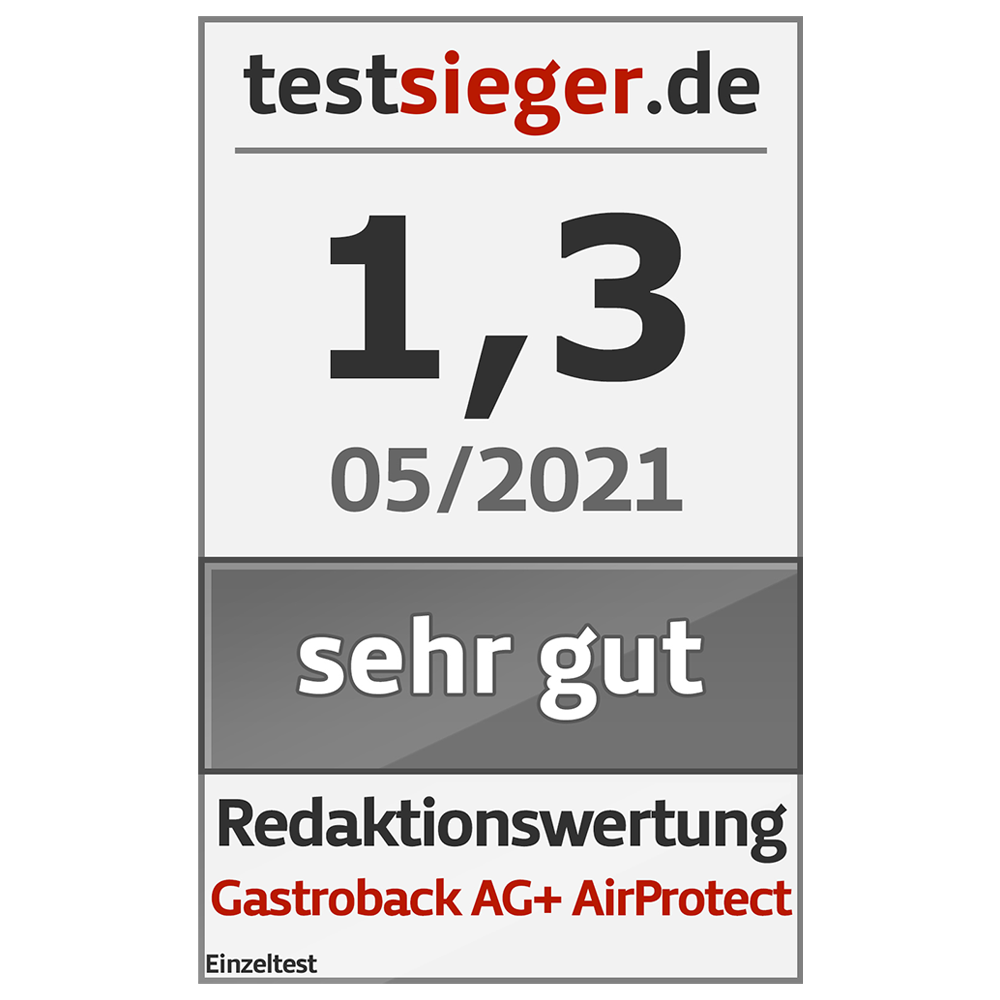 Air Purifier AG+ AirProtect
Art.-No.
20100
Power supply:
220 - 240 V AC, 50/60 Hz
Maximum power consumption:
95 Watt
Weight:
approx. 8.3 kg
Dimensions:
approx. 390 mm x 211 mm x 628 mm (Width x Depth x Height)
Filter unit lifetime
(until replacement):
approx. 6 - 8 months
approx. 2000 operating hours
Maximum particulate clean air delivery rate (CADR):
approx. 370 m³/h (cubic meter per hour
approx. 221 CFM
Maximum room size:
40 - 50 m²
Sensor type:
PM2.5 sensor; suitable for particle matter up to 2.5 µm effective size
Sensor detection (particle size):
> 0.01 µm (PM2.5)
Noise level:
Fan speed 1: ≤35 dBA
Fan speed 2: ≤45 dBA
Fan speed 3: ≤58 dBA
Certificates: